China and UK work to cultivate cutting-edge farming technology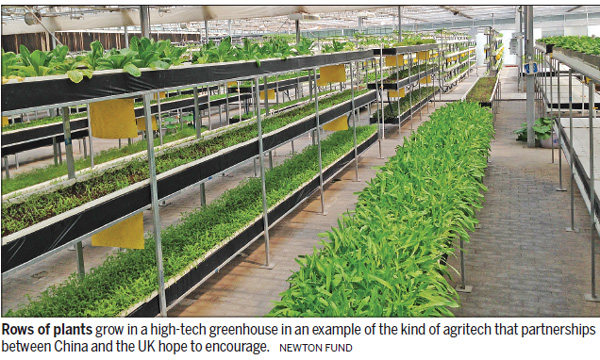 Drones that plant seeds, robots that pick fruit, smart boots that absorb data about the health of poultry-they are all innovations in agricultural technology that are swiftly transforming the way food is produced and managed in the 21st century.
China, which faces the challenge of feeding the world's largest national population, is teaming up with the United Kingdom to seek new ways to apply technology in the agriculture industry.
The UK government's Newton Fund, which promotes economic development and social welfare in 16 partner countries, is calling on British organizations to apply for a share of up to 8 million pounds ($10.4 million) to fund work on innovative agricultural solutions for China.
Denisa Naidin, Newton Fund portfolio manager, said: "We are focusing on agricultural technologies, particularly looking at digital technologies, as well as robotics and biotechnologies, so it's quite cutting-edge agritech that could revolutionize agriculture in China."
British businesses that secure funding will also get help in forming consortiums with UK and Chinese academics, as well as Chinese business partners, to advance research over a three- or five-year period. Businesses have until July 26 to register their interest.
"We could see IoT (internet of things) technology combined with drones or robots on the ground. We might see analysis of crop response to environmental changes, especially in Northeast China, where the effects of climate change are a big concern," she said. "Some projects might look at the nutritional aspects of food and how agricultural processes can have an impact on people's health. Even things like a toolkit to detect food fraud, which is a massive challenge in China, could come out of this."
The Newton Fund was launched in 2014 and now has a total UK investment of 735 million pounds through 2021, with partner countries providing matching resources.
The Newton Fund in China, referred to as the UK-China Research and Innovation Partnership Fund, has Chinese funding partners that include the Ministry of Science and Technology, Ministry of Education, and eight academies, foundations, and universities.
The Newton Fund's China-UK Research and Innovation Bridges Competition in 2015 saw 13 million pounds of funding delivered to 13 projects that addressed energy, healthcare, urbanization, and agricultural issues in China.
While the initial projects have only started recently, the UK-China Research and Innovation Partnership Fund has already had an impact on China's agriculture industry. Last year, the results from UK-China antimicrobial research collaboration supported by the Newton Fund led to the Ministry of Agriculture banning the use of colistin, an antibiotic that had been used as a feed additive for animals.