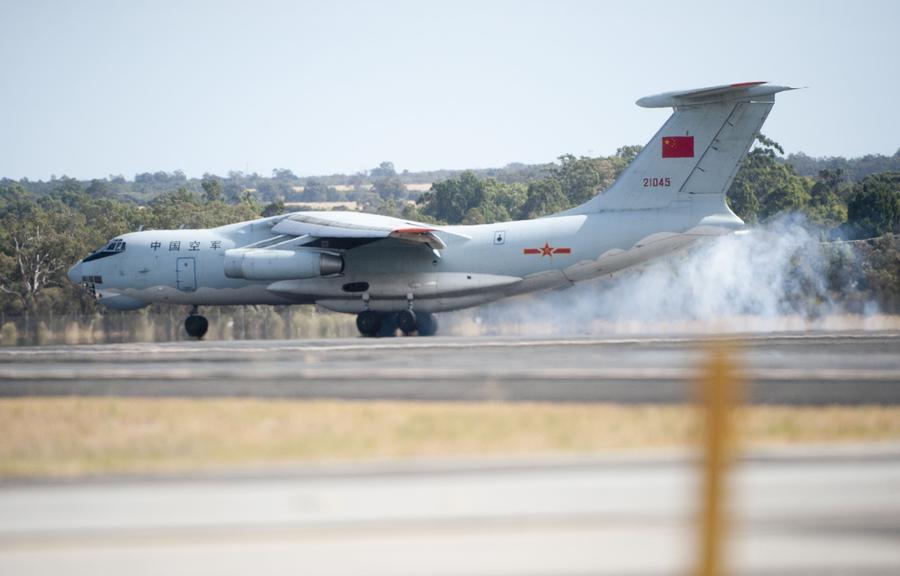 A Chinese aircraft lands on a tarmac in Perth, Australia, on March 22, 2014. Two Ilyushin Il-76 aircraft from Chinese Air Force left Malaysia on Saturday for Australia to join the search for a missing Malaysian plane in the southern Indian Ocean. [Photo/Xinhua]
PERTH, Australia - Two highly-anticipated Chinese Air Force planes arrived Saturday afternoon at the Royal Australian Air Force (RAAF) Pearce Air Force base to drive the ongoing search for signs of missing Malaysia Airlines flight MH370 now focusing on the southern Indian Ocean.
Commander Liu dianjun told Xinhua he hoped the integration of Chinese military assets can precipitate a swift conclusion to the agonizing international search for MH370 that has gone missing since March 8.
At 5 pm (AEDT), the first of the two Chinese Air Force Ilyushin IL-76 transport aircraft landed at Pearce Air Force Base, some 45 km south of Perth and more than 2,500 km from the two suspected debris of MH370 in the southern Indian Ocean identified on Thursday as the "best lead so far" to the search.
With Australian and New Zealand airforce P3 Orions limited by the vast distances and their dependence on infrared imaging, the Chinese IL-76 will be a welcome relief to the authorities here as the challenges of the task at hand begin to overwhelm available resources.
Boasting a top speed of nearly 1,000 km per hour, Il-76 is a multi-purpose four-engine strategic airlifter widely known for its global service as an emergency response transport.
The IL-76, emblazoned with a rich-red Chinese flag as well as a sky-blue hull and a white underbelly, created a rare ripple of enthusiasm across the airbase that is currently home to a large international press corp.
Australia's Acting Prime Minister Warren Truss told media earlier Saturday that the IL-76 was certain to play a key role in the coming critical days as the air search changed from radar detection to visual sightings.
"It is more likely that a pair of eyes is going to identify something floating in the ocean than the technical equipment that is onboard these aircraft," he said.
The IL-76 planes will shoulder much of the load in this regard, as they have a lot of windows and room to carry a lot of bodies, Group Captain Heap told Xinhua at a press briefing.
"Both those aircraft are large transport aircraft that have a very good visual search capability.. What we're looking for is human eyes actually spotting something in the water: you need to be low, you need to be close and you need to be there as long as you can."
The Acting Prime Minister said Australia was grateful for the swift deployment of Chinese assets including three vessels, among them is the famous Xue Long (Snow Dragon) research ship which was incredibly fitted out with supplies in just a few hours at Fremantle harbor Friday before heading for the search area where suspicious debris was spotted on satellite imagery.
"We welcome the additional assets.. they have a capability I'm told, they are a good platform for visual observations and it is more likely a pair of eyes will identify something floating in an ocean - so those two Chinese aircraft will certainly improve our capacity," Truss told reporters.