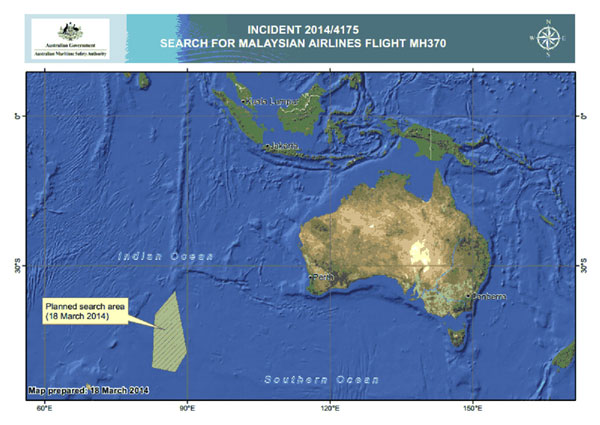 This graphic released by the Australian Maritime Safety Authority shows an area, left bottom, in the southern Indian Ocean that the Australian Maritime Safety Authority is concentrating its search for the missing Malaysia Airlines Flight MH370 on, March 18, 2014. [Photo/icpress.cn]
CANBERRA -- The Australian Maritime Safety Authority (AMSA) said on Tuesday that Australia has begun the search operation for missing Malaysia Airline Flight MH370 in an area of 600,000 square kilometers off Western Australian coast.
John Young, general manager of AMSA Emergency Response Division, said at a press conference that the search area is 1,500 nautical miles (3,000 km) southwest of Western Australia capital city of Perth.
Young said the search area has been developed based on information made available to AMSA on Monday, particularly information provided by the United States National Transportation Safety Board.
"AMSA has defined a possible search area with information available to us from a range of sources both nationally and internationally," he said.
"What we are doing is producing our best estimate of the most likely place to search and it is far from very precise," he said.
Young said one of Australia's P-3C Orion aircraft had departed Tuesday afternoon at 2:00 p.m. Canberra time (0300 GMT) for the designated area and is expected to reach the area at 5:40 p.m. Canberra time (0640 GMT).
Two Royal Australian Airforce P-3C Orion aircraft have been assisting the search off the coast of Malaysia since March 9. Due to the change of mission under new circumstances, they have been re-tasked to search in the southern Indian Ocean.
One P-3C Orion has been relocated from Cocos Island overnight to RAAF Base Pearce, near Perth. The other one and additional two RAAF AP-3C Australia sent to join the search operation on Monday are relocating to Base Pearce to bring the total number of AP-3C aircraft to four.
The Australian aircraft will be joined by a Royal New Zealand Air Force P3-K2 Orion and a United States Navy P-8 Poseidon.
A media release by AMSA said up to five sorties are expected to be flown on Wednesday using AP-3C, P3-K2 and P-8 aircraft.
Young admitted that it will take "weeks" to search an area of 600,000 square kilometers with current number of aircraft and the mission is like finding a needle in a haystack.
Young also said China has expressed willingness to join the search operation in southern Indian Ocean. He said AMSA is in contact with China.