SEOUL - South Korea has decided to send two military aircraft to take part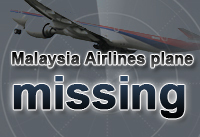 Passengers' and their nationalities:
Chinese 154 
Malaysia 38
India 5
Indonesia 7
Australia 6
France 4
USA 3 
New Zealand 2
Ukraine 2
Canada 2
Russian 1
Italy 1
Netherlands 1
Austrian 1
in the expanding international search and rescue operations for the missing Malaysian airplane, South Korea's foreign ministry said on Friday.
South Korea plans to send a P-3C Orion patrol aircraft and a C- 130 military transport airplane to carry out the search and rescue tasks in finding the vanished Malaysian Airlines Boeing 777-200, according to a press release of the ministry.
The Defense Ministry has also ordered 39 South Koreans from the military to depart for Kuala Lumpur on Saturday to join the international search and rescue efforts, which have reached nearly a week.
After considering the South Korea-Malaysia friendship and humanitarian issues, Seoul decided to participate in the international search for the missing plane, a foreign ministry official told Xinhua.
International cooperation is increasingly important with the expanding of the searching area and the lengthening of the searching efforts, the ministry said.
Seoul has already notified Malaysia of its decision earlier in the day, it added. The exact way and targeted area of the searching will be decided after discussions between the two sides.
The mystery of flight MH370 that went missing about an hour after take off continues to deepen as search operations edge close to a week with no news of the 239 passengers and crew on board.