In today's trending, choking smog forces a burglar who fled to Beijing to give himself up, a Chengdu bus driver recovers his health thanks to traditional Chinese medicine and the man who won 110 million yuan in a lottery accepts his prize wearing a monkey mask.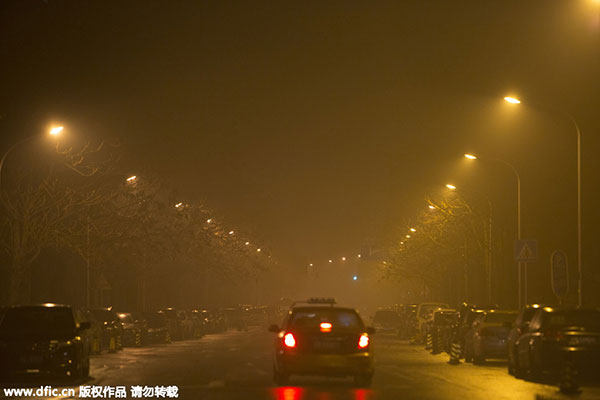 A hazy day in Beijing, Dec 22, 2015. [Photo/IC]
Burglar on the run turns himself in due to Beijing smog
Beijing's notorious smog devastates lung health but can crack cases in an unexpected way.
A 20-year-old man from Central China's Hunan province who committed a burglary involving 10,000 yuan ($1,544) in commodities and cash in his native city had been wanted by police since early November, Hunan-based news website voc.com.cn reported Wednesday.
In an attempt to avoid punishment, he escaped to Beijing and hid there for about a month. During his time on the lam, the city's continuous smog triggered his bronchitis, or lung inflammation.

Fearing that any hospital registration would expose his identity to the authorities, he returned to his hometown to confess, and to receive treatment.
In our next story, a bus driver dramatically improves his health with a little TCM.