In today's trending news, students in Chengdu have the luxury of connecting to a free wifi service when they choose this unique tricycle, a property sales center reveals its unique hiding spot, cadets balance water bottles on their heads as part of exercise, and a man who won the lottery, divorced his wife, is forced to pay up.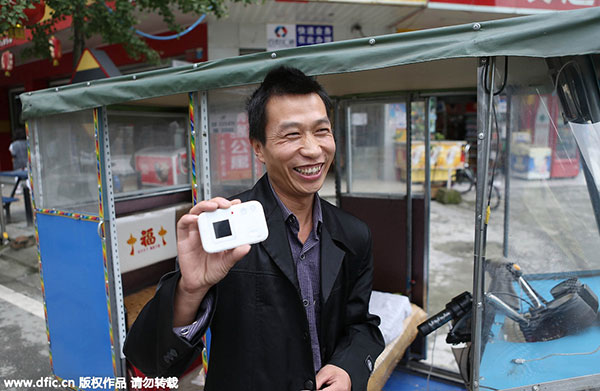 Tan shows the portable wifi device.[Photo/IC]
Wifi-equipped tricycle caters to trendy youngsters
This wifi-equipped tricycle allows the younger generation of smartphone users to keep their eyes on the screen while hitching a ride.
Mr Tan, the driver, charges only three yuan for a short ride. This ride allows you to connect your phone to a portable wifi device. Passengers who demand more entertainment can make the full use their wifi enabled portable devices.
The tricycle mainly serves a young clientele at the university compound in Wenjiang District of Chengdu, Southwest China's Sichuan province. The price increases on the basis of mileage.
In our next story, property sales center is hidden near train station.