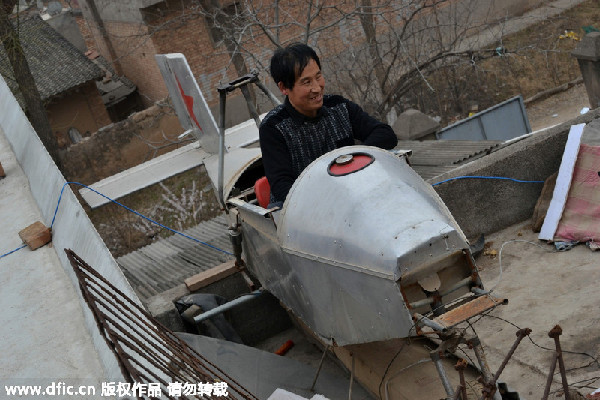 Chen Xueliang, an ex-technician in Northwest China's Gansu province, builds an airplane on his own. [Photo/IC]
Inventor dreams of flight
A middle-aged man in Northwest China's Gansu province dreams of becoming one of the Chinese Wright Brothers.
Chen Xueliang, a 50-year-old ex-technician in Qifu village, Sishilipu town, Pingliang city, Gansu province, made his own aluminum-alloy airplane.
With only a junior high school education and no special knowledge of aviation, Chen said he has always wanted to build an airplane. Chen used to run a repair shop, and his fascination with aircraft pushed him to spend more than 30,000 yuan ($4,800) to assemble one himself.
The airplane, which measures 13.8 feet long, 16.7 feet wide, and 5.2 feet tall, uses the engine of a motorcycle and a propeller as a power supply. It has had two test flights, but failed to stay in the air for a long time. Chen said he will make another test flight this year.

In our final story, dogs escape slaughter thanks to animal lovers.