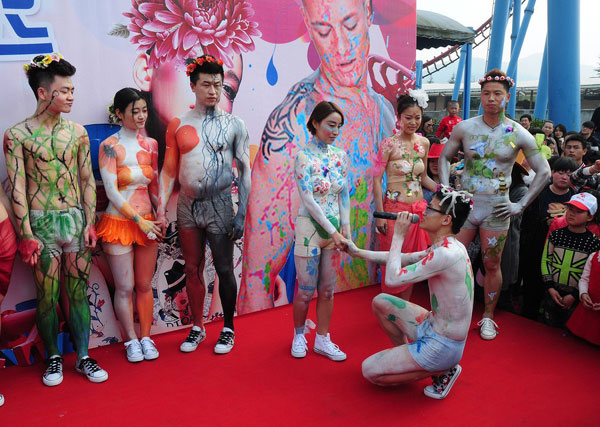 Couples wearing only underwear and body paint tied the knot or renewed their vows in Hangzhou Paradise, an amusement park in Hangzhou, Zhejiang province on Sunday. [Photo/CFP]
'Naked' wedding
In China, a "naked wedding" refers to a marriage between two people who marry for love without first purchasing a house and car. But ten couples in Hangzhou took the term literally.
Ten couples wearing only underwear and body paint tied the knot or renewed their vows in Hangzhou Paradise, an amusement park in Hangzhou, Zhejiang province on Sunday.
They made their vows to their beloved, appealing to people to marry for love regardless of their financial condition.
Some of the couples have just turned 20, while some of the older ones have been in love for over eight years.

In our next story, Chinese inventor builds his own aircraft.