The 19th China International Fair for Investment & Trade (CIFIT) began in the regional business hub of Xiamen, Fujian province on Sept 8.
Recognized by the UFI, the Global Association of the Exhibition Industry and backed by China's Commerce Ministry, the fair plays a key role in unlocking the growth potential worldwide through international cooperation.
Global investors and business persons will be joined by a long list of influential international organizations such as the United Nations Conference on Trade and Development, United Nations Industrial Development Organization, World Trade Organization and International Finance Corporation.
This year's fair is expected to attract more than 700 overseas business delegations and exhibitors from over 50 countries and regions. The latest commercial products are on display in over 6,000 exhibition booths covering 138,000 square meters.
With the conclusion of the G20 Hangzhou Summit earlier this week, appetite for cross-border investment, particularly between Belt and Road nations, is set to be at an all-time high.
Aside from trade deals being conducted throughout the site, the latest economic reports, forecasts and investment trends will be released by several international organizations, including the United Nations Industrial Development Organization (UNIDO). Various national investment promotion agencies plan to detail the investment policies and regulatory environments in their respective countries.
China will make the most of the event by detailing its development strategies that are aimed at promoting supply side reform, driving innovation, entrepreneurship and free trade, and advancing its Internet Plus strategy. CIFIT will play an important role in inviting global businesses and institutions to participate in the process of shaping a more open economy and driving sustainable growth in the country.
As such, the fair will include in a large number of seminars and symposiums with themes ranging from e-commerce, merger and acquisitions, and financial innovation, to policy compliance and risk control in global expansion.
Policy makers and business leaders set to speak on such topics include Wang Jianlin, chairman of Dalian Wanda Group; Li Yong, director-general of UNIDO; You Quan, Party secretary of Fujian province; and Justin Lin Yifu, an economist specializing in economic reforms.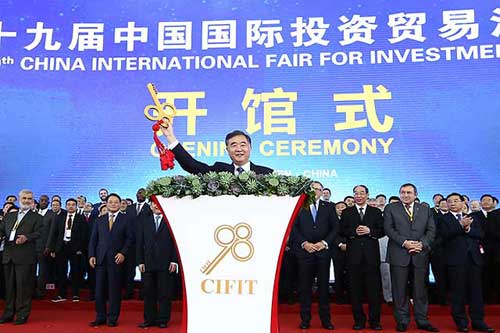 Vice-Premier Wang Yang announces the opening of the 19th China International Fair for Investment & Trade in Xiamen, Fujian province on the morning of Sept 8.