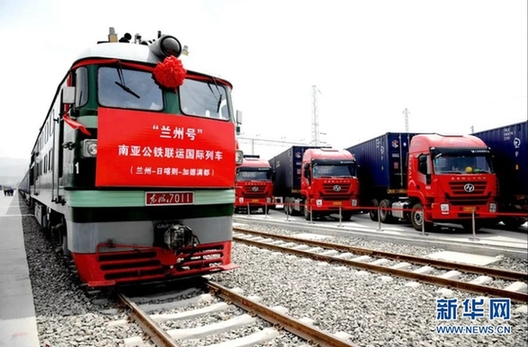 The outbound freight train from Lanzhou to Katmandu starts from Dongchuan Railway Logistics Center in Lanzhou International Harbor Area on May 11. [Photo/Xinhua]
The first China-South Asia international freight route linking Lanzhou, the capital of Gansu province and Katmandu in Nepal opened as a train set out from Dongchuan Railway Logistics Center in Lanzhou on May 11, Xinhua reported.
The freight train had 43 cars, carrying daily use items and domestic appliances.
Lanzhou-Katmandu freight transportation will take around 10 days, 35 days fewer than required by the previous land and sea route.
The freight route is made of three parts: a 2,431 km long Lanzhou-Shigatse railway section; a highway from Shigatse in Tibet to Gyirong; and a second railway section of 160 km from Gyirong to Katmandu.
Lanzhou-Katmandu (China-South Asia) freight train is the third international train in Gansu after the Lanzhou-Alma-Ata (China-Central Asia) train and the Lanzhou-Hamburg (China-Europe) train.
The train is intended to strengthen China-South Asia trade and to make full use of the Silk Road, according to Gansu authorities.
The Lanzhou city government said it would also like to make the freight route the most convenient and efficient land road from Northwest China to South Asia and develop its logistics brand.