China Daily website is inviting you to share Chengdu Story with us! and here are some points that we hope will help contributors:
Although I first visited China 23 years ago, my first opportunity to visit Chengdu came later --about 12 years ago -- while I was working and living in Beijing. It was mostly a work related visit, but exposed me to another great city in China. Those early meetings and discussions eventually led to our company forming a joint venture with, and then acquiring, a company in Chengdu. As with many Chinese and multi-national companies, we concluded the "Go West" strategy was a good one and decided to expand our business operations in Sichuan.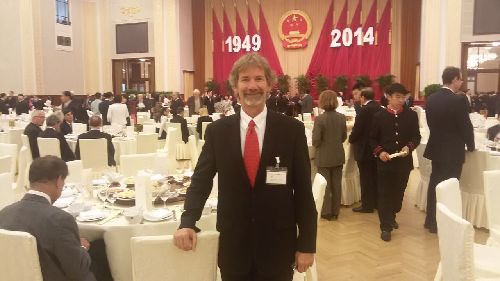 Brian LeMay, the General Manager of Keysight Chengdu.
This set the stage for a period of long and successful growth as we grew our Chengdu-based business seven fold over the years, expanding to the point where we now ship products designed and manufactured in Chengdu to 80 different countries around the world.We've enjoyed great support from both the Western and Southern High Tech Zones in Chengdu. Keysight Chengdu now employs more than 250 people and is our second largest facility in China after Beijing. The team here (including marketing, sales, research and development, manufacturing, and a recently expanded calibration and repair function)is very impressive --one of the best I have had the pleasure to work with during my many years with Hewlett-Packard, Agilent Technologies, and now Keysight Technologies. Their accomplishments have been recognized throughout the company.
I was honored to receive an award in 2014 as one of the top foreign experts in Sichuan, and was invited to a reception dinner in the Great Hall of the People in Beijing.It was a great honor to be recognized in this way, but what really do we, as "foreign experts"and foreign companies, have to offer? Of course technology, international connections, and experience are all valuable -- even vital -- for certain businesses. However, the much more important elements of success, including talented, hard- working people, good infrastructure, and governmental support,are already here. I view our role as cultivating the potential and encouraging the talent that is already here while growing the business in a four-way "win" that benefits the customers we serve, the employees, the company itself, and the cities where we are located.
I moved to Sichuan shortly after the earthquake in 2008 and was immediately impressed by the beauty of the place as well as the resilience of the people. Our company was involved in several aspects of the earthquake recovery, including helping China Mobile restore services shortly after the disaster, having many employees volunteer to deliver emergency supplies to the impacted areas, sponsoring the Hope school, and helping rebuild a community center in Guangji.
Life in Chengdu outside of work has been a great pleasure, as well. The beautiful scenery in such places as Gongga Mountains, Kangding county and Jiuzhaigou, all a relatively short distance outside of the city, is nothing short of spectacular. While Chengdu is facing the same challenges as all big cities in China with traffic and pollution, it is handling them better than most with a balance of growth and greenery as well as business and lifestyle. The rivers flowing through Chengdu are some of the best maintained in China, though being the capital of a province named "Four Rivers" may provide some incentive for that.
Living in one of the culinary capitals of China, and indeed the world, is not to be taken for granted. Whether enjoying hotpot, modern fusions of Asian and Western food, or classics like mapo toufu, it is hard to go wrong. However, despite having had pig's brains and a few other exotic dishes, I'm often teased by my Chinese friends for being too conservative and not pushing the exotic cuisine envelope enough. Music is a great interest and passion of mine,andI have had the great fortune to play with some outstanding musicians in Chengdu venues such as the Bookworm, with Filipino and African bands in Beijing, and occasionally helping with some of the entertainment for our company's Chinese New Year's parties.
Living in Chengdu is one of the great experiences in my life, and I feel both grateful and proud to be part of the business and social communities.
The author is the General Manager of Keysight Chengdu.
The opinions expressed do not represent the views of the China Daily website.
[Please click here to read more My Chengdu Story. You are welcome to share your Chengdu stories with China Daily website readers. Please send your story to chengdu2016@chinadaily.com.cn]