The Zhuhai municipal government, chinadaily.com.cn and deltabridges.com are holding an essays contest for oversea friends without regard to country, race, or age, the only requirement being that the person has lived or worked in Zhuhai or has visited it and has some funny or interesting thing to say about it.
Theme:Zhuhai through my eyes
Laguage: English
Length: No limit
Form: Feel free to write whatever you think, in travelogue, prose narrative, or poetic form.
Deadline: Oct 31, 2015.
Email us at zhuhai@chinadaily.com.cn.
Zhuhai and China Daily will select one 1st place, three 2nd, five 3rd, and 10 excellent award winners. The essays will appear on chinadaily.com.cn, deltabridges.com, and the new Zhuhai English website under your own byline. The result will be seen on the three sources on Nov 10, 2015.
The Zhuhai English Website is sponsored by the Zhuhai municipal government, and undertaken by chinadaily.com.cn, the largest English news website in China. If you are going to invest, travel, or live in Zhuhai, you can find information, news and reports on the new website, which will debut on Nov 1. Delta Bridges is a Public & Media Relations company based in Zhuhai and covering the Pearl River Delta area.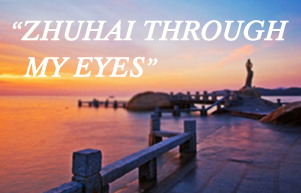 | | | |
| --- | --- | --- |
| | Prizes | About the prizes |
| 1st place | 1 Deluxe room at the Imperial Hot Springswith breakfast, lunch and massage. | Imperial Hot Springs is a 5-star Japanese style hot spring resort in the Zhuhai suburbs and a good place for a romantic getaway for couples, withquiet, comfortable rooms and a private courtyard just outside the door. |
| 2nd place | 1 Superior room atthe Intercontinental FoshanHotel | The Intercontinental Foshan is a 5-star hotel in the city of Foshan, established in 2010, with a great lake view. |
| | 1 Deluxe room at thePullman Dongguan Forum | The Pullman Dongguan Forum is in the heart of the town next to Qifeng Mountain, with a peaceful setting and resort-style atmosphere, which may make you forget that it is a renowned 5-star business hotel. |
| | 1 Deluxe room at theShenzhen Sheraton Hotel Futian | The Sheraton Shenzhen Futian Hotel is in the heart of Shenzhen's new Central Business District, with convenient transportation by metro or by air. |
| 3rd place | Mobile battery for smart phones and U-key with achinadaily.com.cn logo | |
| Excellent | U-key with a chinadaily.com.cn logo | Provided by chinadaily.com.cn |