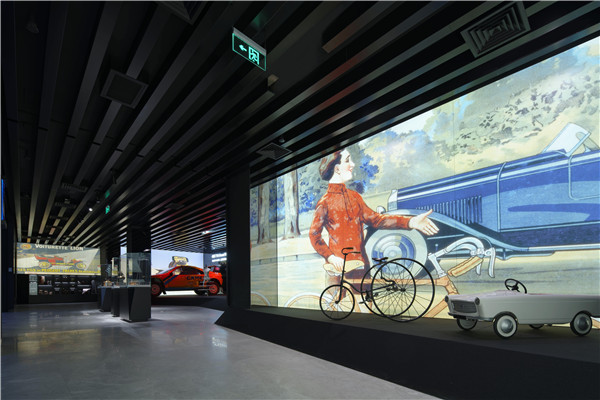 Marc Ange, designer of Peugeot Avenue Qianmen, has taken into consideration local preferences while designing the four-floor building in the heart of Beijing. [Photo provided to China Daily]
While some Western designers would find the implementation of a project like this quite difficult in China, Ange says he supervised the whole process himself and is very happy with the outcome.
Ange first collaborated with the car company on the Peugeot Avenue project on Champs-Elysees in Paris.
He says he was attracted to the company because of Peugeot's history of innovation.
"Especially in the last few years, it has showcased very strong futuristic design. At the same time, it has its heritage as one of the oldest car brands in the world."
Born in Rome, Ange was raised in a family involved in the arts and religion that inspires his work today. He founded the Bloom Room in Paris in 2008.
Having visited China more than 20 times in the past two years, Ange now plans to open a studio in the country, following on from his studios in Paris and Los Angeles.
The studio will focus on architecture and interior designing of hotels, restaurants and luxury boutiques for both Western and Chinese local brands.
European designers still have a long way to go in terms of fusing Chinese culture into their designs, says Ange.
"As a foreign designer, you have to understand local people, their culture and their way of looking at things ... You have to understand them to create things that appeal to them," he says.