Chinese-American Grace Chen has been offering women in China clothes that blend glamor, authoritativeness and cultural identity for years. Now she wants to make a bigger impression
For China's political and entrepreneurial female elites, it's not easy to find a look that balances glamour, authoritativeness and cultural identity. But for years, Chinese-American couturier Grace Chen has been offering just that. Well-known among the well-heeled, Chen is now making a bigger splash both in China and overseas.
On July 16, Chen opened The House of Grace Chen in Shanghai.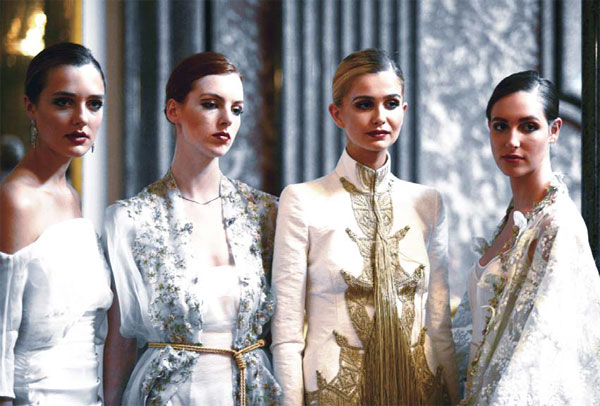 Models wear creations by Grace Chen during a runway show at Lancaster House in London in June. Photos by Eliska Kyselkova / Seth Powers / Anton Phatianov
Located in a heritage villa built in the 1920s in Shanghai's former French concession, the three-story mansion designed by Italian firm Kokaistudios incorporates a showroom, fitting salons, an art gallery, a library, a fashion lounge and a VIP suite.
It also displays all of Chen's previous collections, including her Little Red Dress from 2013, Little Romance from 2014 and Little Story from 2015.
"This is not just a physical space. It's a sharing space for people who have the same tastes and ideas," says Chen.
Following her shows in Paris, Moscow and Brussels, Chen held a runway show at Lancaster House in London in June, as part of the celebrations of the 90th birthday of Queen Elizabeth II.
The show saw more than 40 gowns presented by professional models, socialites and aristocrats, a runway tradition for the Grace Chen brand.
The cast included a descendant of the Russian royal family, Princess Olga Romanoff, and philanthropist Ella Mountbatten.
Backed by an investment from private equity firm Cheng Wei Capital, Chen is now eyeing a bigger audience globally.
"We have always had a strategy to capture the top of the pyramid in any market. Whenever we enter a new market, we start from the top. For the British, royalty is at the top of the pyramid. That's why we had the show in a palace and the audience came from that circle."
Besides a salon in Beijing and the House in Shanghai, Chen plans to have a studio either in Paris or in London.
She is also considering a store in Hong Kong or Macao to cater to the Southeast Asian market.
A pioneering couturier in China, Chen is confident about the potential of the market in China.
"It is a huge one. A lot of people haven't recognized this, but it is. We are doing so little," she says.
Chen also plans to launch a menswear couture line next year.
Meanwhile, Chen is considering developing a line that targets young, urban professionals between 25 and 40.
This semi-couture line will use computer technology to customize outfits based on a customer's measurements.
It will likely be launched online at a much lower price point, but will be in line with the classic style of the main couture line, she says.
"A lot of people are thinking about this, but the thing is, how do you make it happen? That's what we are trying to do now ... how do you cut costs and maintain efficiency? That means using technology."
Born in China in the 1970s, Chen acquired a master's degree in fashion design from the Beijing Institute of Fashion Technology before studying fashion design at the Fashion Institute of Technology in New York. She worked as a fashion designer in New York and Los Angeles for 15 years for brands like Zum Zum, Halston and Tadashi Shoji, before she returned to China in 2009 to create her eponymous brand.
Chen's work, which fuses a Chinese spirit and craftsmanship with Western tailoring and aesthetics, is free of obvious, extravagant Chinese elements that are often found in China-inspired fashion.
"The advantage of our style is that everybody can wear it, no matter where you are from. Whether you are white or black or Asian, it doesn't matter. And we have a pattern-making technique that fits everybody.
"The key is to wake up the beauty of a woman, to make you a better person, and to make you understand yourself better."
Chen's clientele includes celebrities like Oprah Winfrey, Helen Mirren, Yue-Sai Kan, Yang Lan and Liu Xiaoqing.
Besides customers from the political and business worlds, she also has the newly rich, who tend to follow the latest trends.
She says the most important clients in the future will be young, successful professionals in the technology and finance sectors, many of whom are between 35 and 45.
"These people are the future of the luxury market in China. They will be the most important market, instead of the new-rich. Some big brands are making a mistake, seeing the new-rich as their major clients. The new-rich can be luxury clients, but they are not loyal, true clients. They follow because they imitate, not because they understand the brand.
"The real luxury customers in China start from a spiritual level. This group (successful professionals) is huge, it is very powerful and it has big impact on young people."
Contact the writer at sunyuanqing@chinadaily.com.cn
sunyuanqing@chinadaily.com.cn