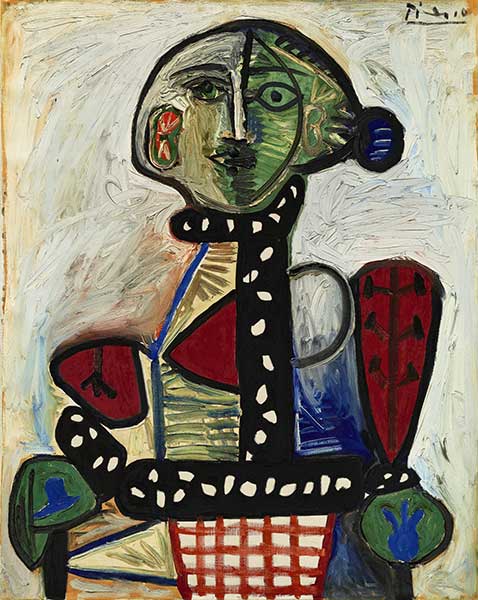 Chinese movie tycoon Wang Zhongjun purchased Pablo Picasso's Woman with a hairbun on a sofa at $29.9 million at a New York auction in May last year.[Photo provided to China Daily]
Chinese art buyers are less impulsive today than they were a few years ago, Lin Qi reports.
China lost its top slot in the fine arts market to the United States last year, after six years of reign owing to a notable decrease in the total volume of auctions, according to a global study.
While rich Chinese art buyers have, on one hand, become cautious with home auctions, intensifying the competition for high-quality, rare goods, on the other, they are stepping up the purchase of foreign art, especially modern and contemporary pieces by prominent Western artists, says last week's 2015 Art Market Report.
The annual report is a joint effort by French online company Artprice and Beijing-based Art Market Monitor of Artron. For the past 14 years, the report has been keeping track of and analyzing the world auction market of paintings (and Chinese calligraphy), sculptures, installations, photos and other categories.
The salerooms worldwide reaped a turnover of nearly $16 billion last year with a yearly drop of 10 percent. The bulk of that was paid in the United States, accounting for a market share of 38 percent, while the auctions in China took up 30 percent, followed by Britain and France, the report says.
The decline in the Chinese fine arts market last year also shows the continuing influences of a weak global market and a slowing Chinese economy, says Xu Cuiyun, a senior analyst with the Art Market Monitor of Artron.
In 2015, Chinese art buyers were not as impulsive as they were when the market was at its peak seven years ago, Xu says, and those who sought instant profit from reselling at auctions earlier had disappeared from the salerooms. Those who remained were the more serious collectors who accepted only reasonable prices or bid for quality works.
Although a greater sum of money was still paid for Chinese ink paintings and calligraphy works, auctioneers sold less and fewer art pieces fetched more than $5 million, says the report.
The market for contemporary ink works suffered greater losses than other categories as a result of the Chinese government's anti-graft campaign. For years, ink paintings created by living Chinese artists were favored gifts to bribe government officials, pushing the category to sell higher in the market.