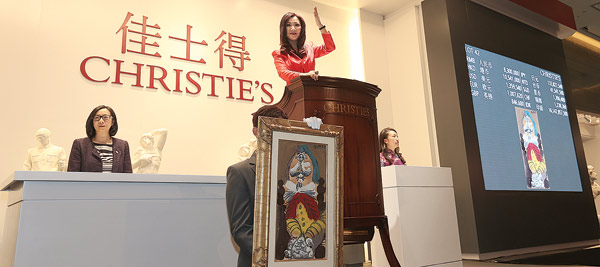 A Picasso painting under the hammer during the 2013 auction at Christie's in Shanghai. Provided to China Daily
A newly-revised regulation on art dealing, issued by China's Ministry of Culture on Tuesday, has eased restrictions on import and export of works of art.
The ministry has delegated management of the cross-border art trade to provincial governments.
Dealers now only need to obtain a standard business license. They must register with the cultural department, but no longer need to meet any extra departmental requirements.
Organizer of commercial exhibitions of imported works of art must provide information about content, but not other details such as budget, promotion plans and lease of the venue.
The approval time for cross-border deals will be reduced from 15 days to five, with a maximum of 15 days to approve an exhibition.
The regulation was first adopted in 1994 and revised in 2004 but, as the market expanded, failed to cover many key aspects of the industry, said Ma Feng, a senior official with the ministry. New articles will better regulate and supervise domestic auctions and appraisals, he said.
Auction houses must keep the original records of their transactions and documents of appraisal for at least five years so that consumers can backtrack if any dispute over authenticity occurs.
Dealers will be punished and fined if they withhold information or mislead buyers.
China's art market was worth about 215 billion yuan ($33 billion) in 2014, second only to the United States'.