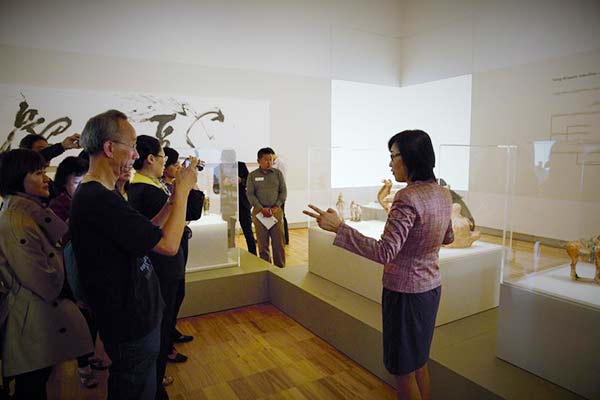 A head from Art Gallery of New South Wales introduces exhibits from China in Sydney, Australia, April 8, 2016. [Photo/Xinhua]
Treasures from the Tang Dynasty have gone on display in Australia, showing China's ancient silk road, a symbol of cross-culture exchange and embrace.
The Tang Dynasty, China's most revered imperial period through its nurturing of power and openness, developed the ancient silk road which allowing the world's longest continuous civilization and it's neighbors to not only prosper economically, but also culturally.
"For the first time, Australian audiences are able to appreciate the high artistic achievements and rich history of this golden age of China," Art Gallery of New South Wales director Dr. Michael Brand said in a statement on Friday.
China's Belt and Road Initiative is the modernization of the Silk Road, focusing on increased economic connectivity across the Asia-Pacific and Europe.
The exhibition focuses on traditional Chang'an city, present day Xi'an, situated at the heart of the Silk Road, giving Australians a glimpse at life through a wondrous array of rare gold and silver artefacts, sculptures, ceramics and mural paintings.
In a traditional-meets-present day theme, the exhibition also showcases an interactive 3D-reconstruction of the Tang-era Buddhist shrine.
It's the Art Gallery of New South Wales' third exhibition showcasing artistic treasurers from China's Shaanxi province.