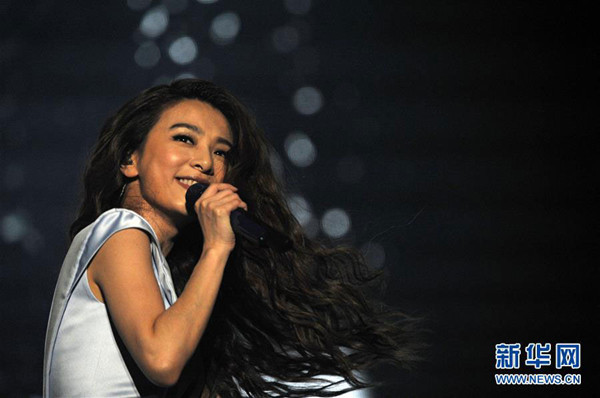 Singer Hebe Tien performs during the "IF" World Tour held in Singapore Indoor Stadium, March 5, 2016. [Photo/Xinhua]
S.H.E's youngest member, Hebe Tien, wrapped up the last leg of her "If" World Tour in Singapore last night.
During her first major solo concert in Singapore, the 32-year-old singer brought over 30 songs to the stage, basically her entire solo discography since 2010.
Fans were excited over Hebe's performance of several hits, such as Forever Love and A Little Happiness.
The diva also showcased her rendition of Florence + the Machine's Dog Days Are Over, adding her youthful and manic energy into the English indie rock number.
The concert fascinated the fans with its eye-catching stage design, from a giant platform that looked exactly like a lush green island, to the laser and videography that matched perfectly to the rhythm and moving screens.
Rising to fame as a member of top Taiwan girl group S.H.E, Hebe debuted her solo album in 2010, with eight music videos that each has more than 10 million views on YouTube.
She carried out her first solo concert at Taipei Arena in 2014, selling all 22,000 tickets in just 10 minutes.