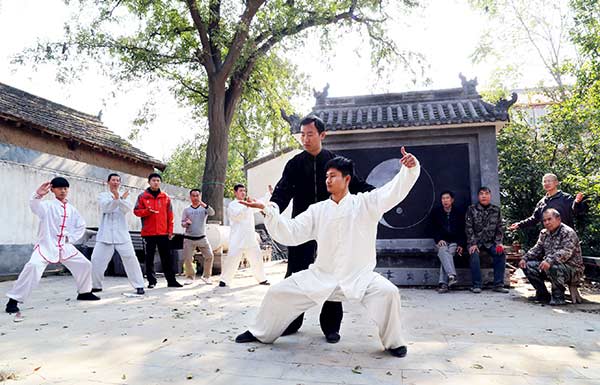 Students practice tai chi at a martial arts school in Chenjiagou, Wenxian county, Henan province, on Nov 1. Xu Hongxing / for China Daily
Henan province's Chenjiagou, birthplace of the popular martial art, strives to preserve its traditional character while embracing newfound prosperity and the challenges of growth.
Once hidden along the dusty rural back roads of Wenxian county in Henan province, the village of Chenjiagou, the birthplace of the martial art of tai chi chuan, now stands tall among carefully tended corn and wheat fields.
Familiarly known as Chen Village by the growing number of tai chi enthusiasts worldwide, Chenjiagou has undergone, and continues to experience, huge changes that are transforming the countryside surrounding this 600-year-old village in Central China.
A new hotel and storefronts have sprung up. A towering, recently built museum can be seen from the distance as you approach the village, where countless lanky trees lining the roadsides were once the only landmark. A sprawling new training hall/competition arena greets visitors before they reach the main gate of the village proper. There's even talk of building a hospital and a tai chi university, and of creating a lake that would be fed, in part, by the nurturing waters of the nearby Yellow River.
Yet, amid these great winds of change, the heart of the old village, like the calm eye of a hurricane, sits untouched by the passing of time. Whether it will remain so is a question that's foremost on the minds of those shaping Chenjiagou's future.