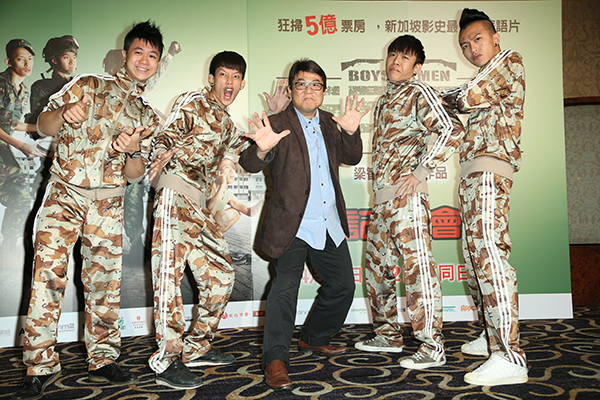 The cast and director Jack Neo (center) of Ah Boys to Men Part Two attend a media event in Taipei. [Photo provided to China Daily]
Following President Xi Jinping's first state visit to Singapore on Friday, a film festival to celebrate more than two decades of diplomatic ties between China and Singapore, will soon be held in Shanghai.
The 2015 Singapore Film Exhibition is expected to show blockbusters such as the comic trilogy of Ah Boys to Men, the family-themed drama Ilo Ilo and the iconic 1965.
Revolving around Singapore's fresh military recruits, the trilogy is about a rich, spoiled brat, who after being enlisted into the army tries to escape his duties, but later becomes a fine soldier.
When the second installment, Ah Boys to Men Part Two, was released in 2013, it became the city-state's highest-grossing film.
The third installment, Ah Boys to Men: Frogmen, also directed by Jack Neo, beat Jackie Chan's Dragon Blade and Chow Yun-fat's Man From Macao II to top Singapore's box office during Spring Festival this year.
Many Chinese moviegoers, who have watched the franchise, say the dialogues mix English, Mandarin, Cantonese and a dialect from China's Fujian province, in a "pretty funny" way.
Most viewers also found the three films useful in learning about Singapore's National Service, they say.
Ilo Ilo, with its Chinese title directly translating as "Mom and Dad Are Not Home", is the debut feature of director Anthony Chen. Set in 1997, when most Asian countries faced a financial crisis, the film reflects the troubled lives of members of a Singaporean family and their Filipina domestic helper.
In 2013, the film won the Camera d'Or award in Cannes, making it the first Singaporean film to win one of Europe's top cinematic honors.
At the Shanghai International Film Festival last year, Chen told reporters that his childhood experiences inspired the making of Ilo Ilo. And the film's relatively wide theme appealed to audiences everywhere.
The film 1965, woven with several stories of immigrants and natives in Singapore, records the big issues featuring social turmoil and race riots before Singapore's independence that year.
The five movies will be screened at Premiere Cinemas in downtown Shanghai from Nov 13 to 15.