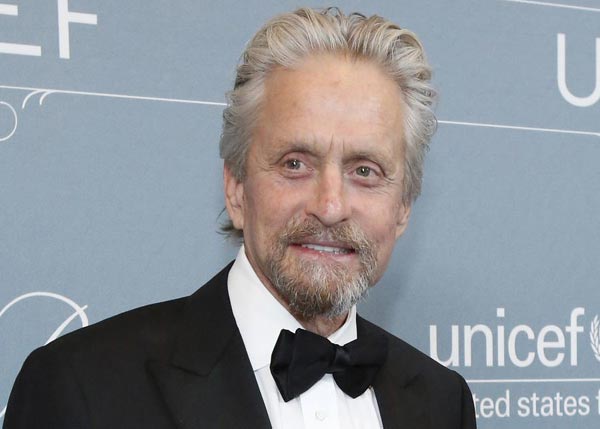 Actor Michael Douglas poses at the UNICEF Ball fundraising gala in Beverly Hills, California in this file photo taken January 14, 2014. [Photo/Agencies]
Michael Douglas is more accustomed to playing dashing leading men and corporate types, so he took a deep breath when offered the role of an ornery widower with a second chance for love in the romantic comedy And So It Goes.
The film reunites the Oscar-winning actor with director Rob Reiner, who both worked together on the 1995 movie American President. Douglas also stars opposite Diane Keaton for the first time in his career.
"It was one of those stories that you guess you are finally ready for," Douglas says about the film that opens in US theaters on Friday.
"I am going to be 70 in a couple of months," he adds. "You really don't think you have changed that much but you have."
Douglas plays Oren Little, a curmudgeony realtor near retirement who still grieves for his dead wife and is estranged from his only son.
Oren's self-centered world is upended when he is asked to care for a 9-year-old granddaughter he did not know existed.
"You've met people like him before," says Keaton. "They do exist. There are these guys that are just lost souls and angry, angry, angry, and underneath all of that is just a heart of gold."
For Keaton, 68, the film was an opportunity to work with Douglas and Reiner, who dons a toupee to play a pianist in the film, and the chance to sing.
As Leah, a struggling lounge singer, Keaton performs several songs in the film. She and Oren are neighbors in a waterfront apartment building called Little Shangri-La, along with a young couple about to have a baby and a family with boisterous boys.
"It's not just about a romance," says Keaton. "It's about a small community of people and, of course, it is about Michael's character Oren and his evolution, what happens to him and how he has opened up to his life again by circumstances that would never have happened had he not been thrust in this situation."
When Oren reluctantly takes custody of his granddaughter, played by 10-year-old actress Sterling Jerins, Leah befriends the child and discovers Oren's softer side.
"I knew that there was more there," says Keaton. "That I would find it and get it out of him and that gave me a sense of self again."
In a summer of blockbuster action movies, the film about one more great romance and new beginnings is meant to appeal to baby boomers, but early reviews have been mixed.
The Hollywood Reporter found it predictable but engaging. But fellow trade publication Variety says it "feels like a surrender - to the kind of geriatric burlesque that increasingly seems to be the only game in town for A-list stars of Social Security age".
But for Douglas, it was simply about love.
"At any time, anywhere you can find love," he says.
Reuters