Profile: Xi Jinping and his era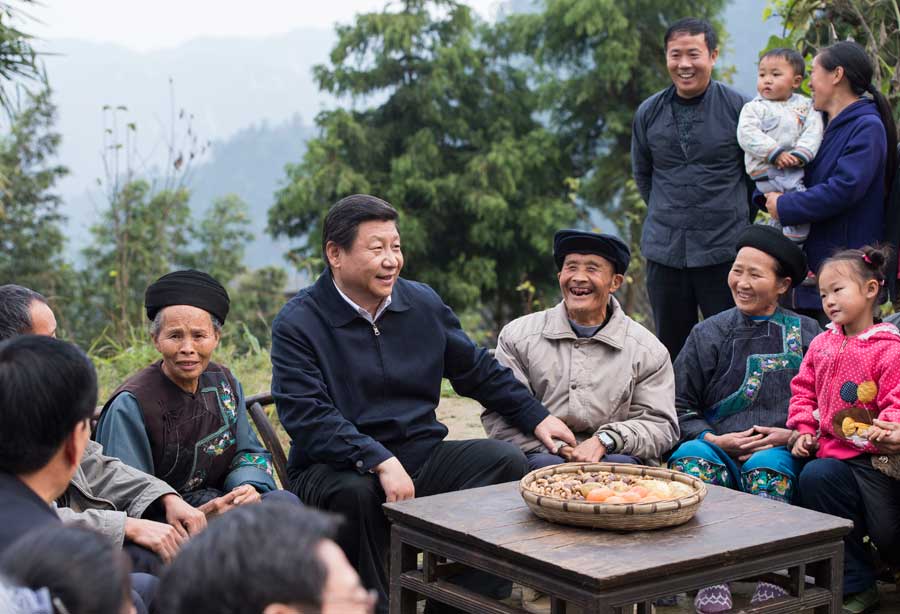 Xi Jinping talks with local villagers and cadres at Shibadong village in Paibi township of Huayuan county in the Tujia-Miao autonomous prefecture of Xiangxi, Central China's Hunan province, Nov 3, 2013. [Photo/Xinhua]
Servant of the public
"Xi is a very great leader. He works not only in his office, but among the people," said Keovichith Lamngeun, a Laotian who worked as one of the nine foreign linguists on the translation of the 19th CPC National Congress report.
"From my observation, the general public likes Xi because he has brought about changes," said Peggy Cantave Fuyet, who was responsible for the French version of the report.
Many times over the last five years, the general secretary popped up in crowds of ordinary people amid roars of cheering and the sound of mobile phone camera shutters.
He queued and dined with members of the public in a roadside restaurant. He bought festival gifts himself before visiting old acquaintances in the village where he worked as an "educated youth." He stood in heavy rain talking with frontline workers.
He has walked into farmers' barns and kitchens, checked the menu at nursing homes and stressed virtue to young students.
He stayed overnight in a makeshift prefab during a visit to the scene of an earthquake.
He once visited Beijing's hutongs in heavy smog, dropping in on residents to ask about their work, salaries, what they burned for cooking and heating, as well as how far their homes were from the nearest toilet. Xi has visited all of the poorest areas suffering "abject poverty" in China.