Profile: Xi Jinping and his era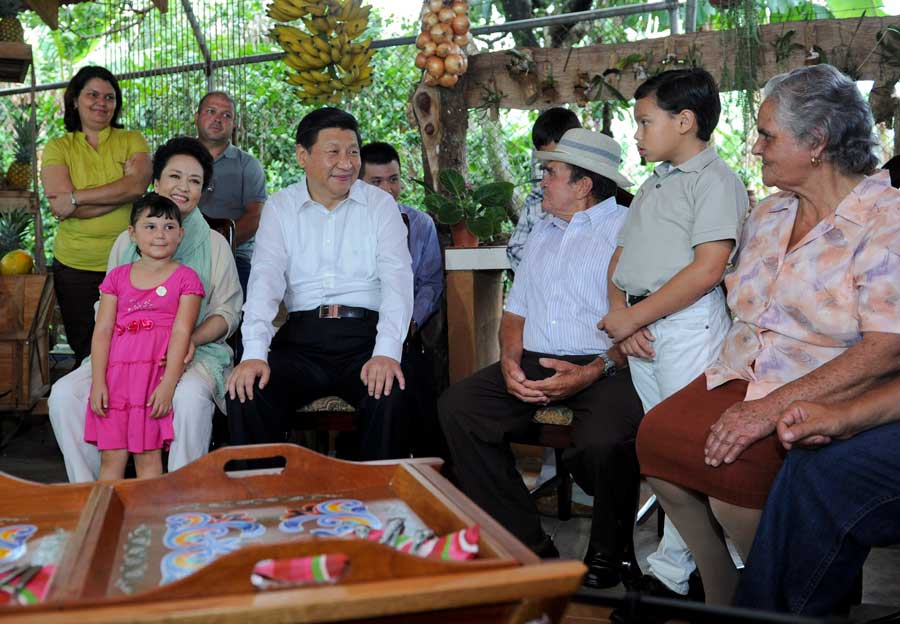 Xi Jinping chats with members of a local farmer's family during a visit with his wife Peng Liyuan in Costa Rica, June 3, 2013. [Photo/Xinhua]
When presenting an award to a Russian veteran who fought for China during World War II, Xi saw the difficulty the old soldier had in moving and said at once, "Let me come over to you. You can stay there." He cherishes old friendships and honored his words with a visit to the family of a late friend, Jim Bacon, in Australia.
A selfie of football star Sergio Aguero and Xi drew a large number of views online. In Argentina, he happily accepted a No. 10 jersey with his name on it. When being interviewed, Xi said he likes sports, including football, basketball, volleyball, and boxing. He also takes time out of his busy schedule to swim over 1,000 meters a time.
His wife Peng Liyuan accompanies the president on some trips abroad and has also become a star of China's diplomacy. In the autumn of 2015, Peng walked onto the podium of the United Nations and delivered two speeches in fluent English, one on her Chinese dream: "I hope all children, especially girls, can have access to good education. This is my Chinese dream." The other was about her stories with children orphaned by HIV/AIDS.