Profile: Xi Jinping and his era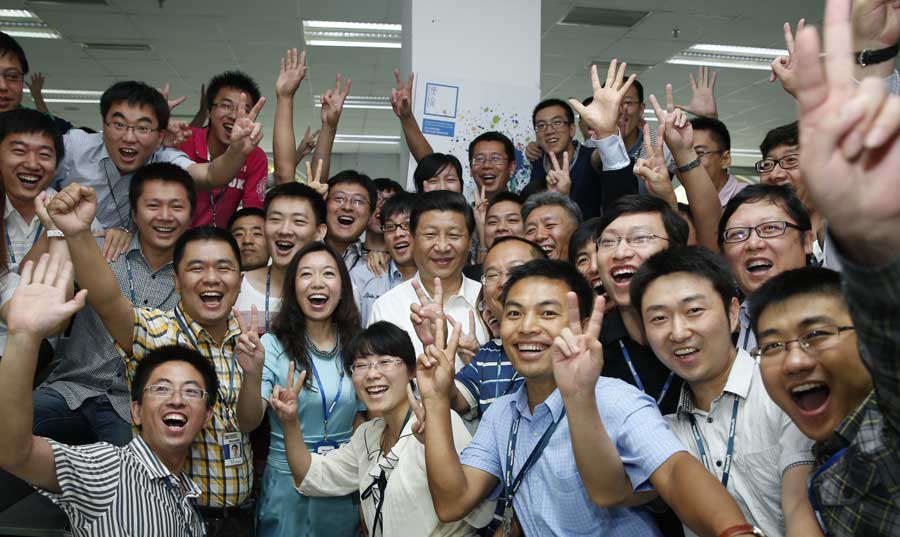 Xi Jinping poses for a group photo with workers from Neusoft in Dalian, Northeast China's Liaoning province, Aug 29, 2013. [Photo/Xinhua]
He presided over meetings of the Central Leading Group for Deepening Overall Reform to discuss major medical reforms and made "Healthy China" a national strategy. A property rights protection system is being improved to give people a greater sense of security.
Reform of household registration system will ensure equal access to public services for more people.
Xi is practicing the CPC principle of serving the people wholeheartedly. What makes him stand out may lie in his experiences of living and working as an "educated youth" -- urban youth sent to remote rural areas to "learn from farmers" during the Cultural Revolution. He stayed in Liangjiahe, a small village in Northwest China's Shaanxi province, from 1969 to 1975.
"At that time, I did all kinds of work -- reclaiming wasteland, farming, hoeing, herding, hauling coal, mounding, and carrying manure," Xi recalled. "I came to understand what reality, seeking truth and the masses meant. These gave me an enduring inspiration in my life."
He is well qualified to be confident about his comprehension of ordinary people's life in this populous country. During his about 44 years in politics, he rose from grassroots Party chief to the CPC leader, from an ordinary citizen to the country's president, from an average military officer to the Central Military Commission chairman.
He has worked in Party, government and military units, holding posts at all levels from village-level to county-level and all the way through to provincial and central authorities. Wherever he works, he makes a remarkable impact. He leads the CPC in serving the people's interests -- usually long-term interests -- with foresight and consideration for what can be carried through.
"I respect Xi. The Chinese leader has the qualities necessary for the new era," said Olga Migunova, the Russian linguist on the translation of the 19th CPC National Congress report.