Profile: Xi Jinping and his era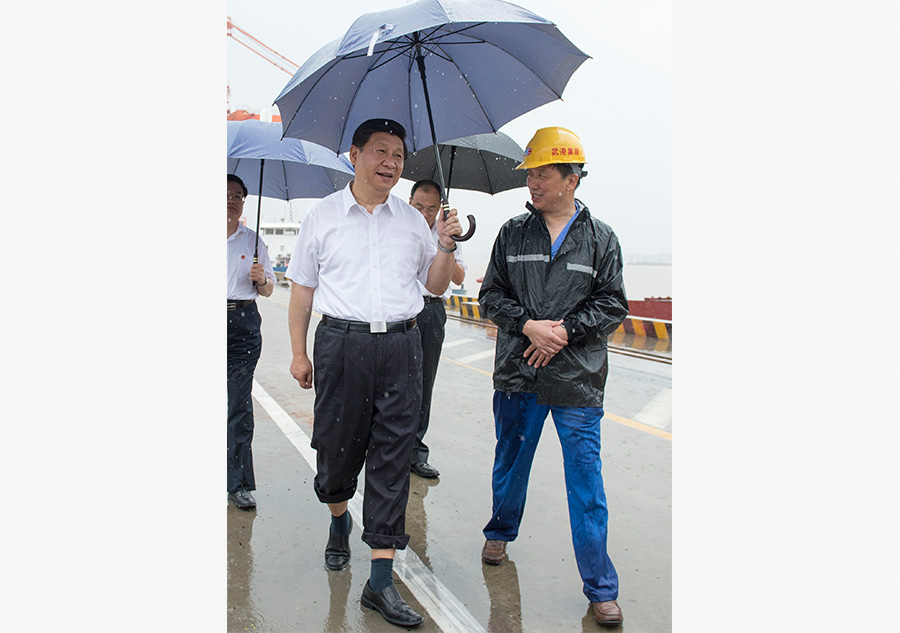 Xi Jinping inspects the Yangluo container port in Wuhan, Central China's Hubei province, July 21, 2013. [Photo/Xinhua]
While some suggested taking a breather as long as some progress has been made, Xi said the Party must not leave well enough alone in front of an early harvest. Rather, the Party must fight for a "sweeping victory" over corruption. A popular cartoon on the Internet shows Xi on top of a tiger and punching the beast with his fist.
According to the National Bureau of Statistics, about 75 percent of Chinese people were satisfied with the anti-corruption efforts in 2012. The figure had risen to 92.9 percent by 2016.
Xi does not only rely on taking out "tigers" and swatting "flies" -- low-level corrupt officials -- to win people's support.
In early 2013, when Xi read an article, "Netizens call for curbing food waste" carried by Xinhua News Agency, he gave the instruction that "waste must be stopped." He stressed eradicating waste in public funds. After five years of hard work, the CPC checked the unhealthy trend, a mission once believed to be impossible.
Yang Xiaodu, deputy secretary of the CCDI, declared: "People said public funds spent on recreational activities like dinners and drinking could be about 200 billion yuan every year, but no one knew how to curtail it. With the eight-point regulation on frugality, the problem has been solved."
The regulation made explicit requirements on how officials should improve their work in eight aspects, focusing on rejecting extravagance and reducing bureaucratic meetings and empty talk. "The eight-point regulation has changed China," Yang said.
"The people have granted power to us, so we must devote our lives to the Party and the country, and serve the Party and the country worthily. We must do what we should. If our work needs us to offend some people, we must offend them," Xi said.
Xi meant what he said. He relaunched the mass-line campaign to bring Party officials closer to the people. He urged officials to meet "strict" and "earnest" requirements: to be strict with oneself in practicing self-cultivation, using power, and exercising self-discipline; and to be earnest in one's thinking, work, and behavior. The Party required all its members to have a solid understanding of the Party Constitution, Party regulations, and major policy addresses, and to meet Party standards of behavior.
The CPC will run a campaign on "staying true to our founding mission" to enable all the Party members to arm themselves with new Party theories and become more purposeful in working tirelessly to accomplish the historic Party mission. The Party has revised its regulations on disciplinary punishments and code on honesty and self-discipline. Those keen on officialdom are losing power and influence. Over the past five years, more than 5,000 "naked officials"-- those whose spouses and children are overseas -- have been removed from their posts. More than 22,000 officials at or above county-level had their posts rearranged on the basis of their performance.