Profile: Xi Jinping and his era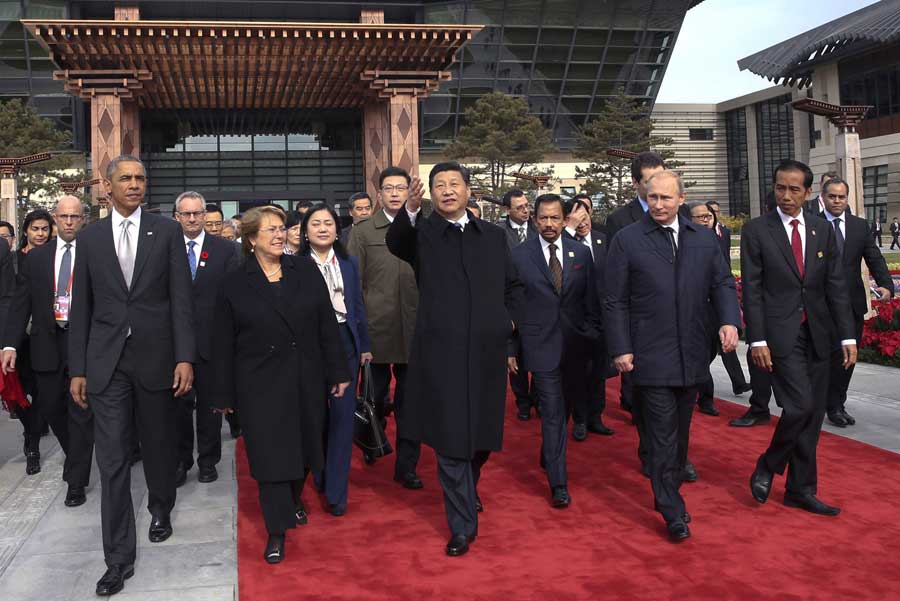 Xi Jinping and other leaders and representatives from the Asia-Pacific Economic Cooperation (APEC) walk to plant trees to mark friendship in the APEC family in Beijing, Nov 11, 2014. [Photo/Xinhua]
In June 2016, at the arrival ceremony of a China-Europe freight train in Warsaw, Xi and Polish President Andrzej Duda tasted Polish apples together. Today, products like the apples are brought to China with the help of the Belt and Road Initiative.
As the chief architect of the initiative, Xi has provided an inclusive platform for countries to speed up their development. Over 100 countries and international organizations have expressed their support for, or participated in, the initiative.
In May 2017, Xi presided over the Belt and Road Forum for International Cooperation, the most prestigious international gathering China has ever initiated. Representatives from the world's major economies including all G7 countries were present.
To the international community, Xi is a firm advocate for economic globalization. He was the first Chinese head of state to attend the World Economic Forum in Davos.
His speech there was impressive: "Pursuing protectionism is like locking oneself in a dark room. While wind and rain may be kept outside, that dark room will also block light and air. No one will emerge as a winner in a trade war."