Profile: Xi Jinping and his era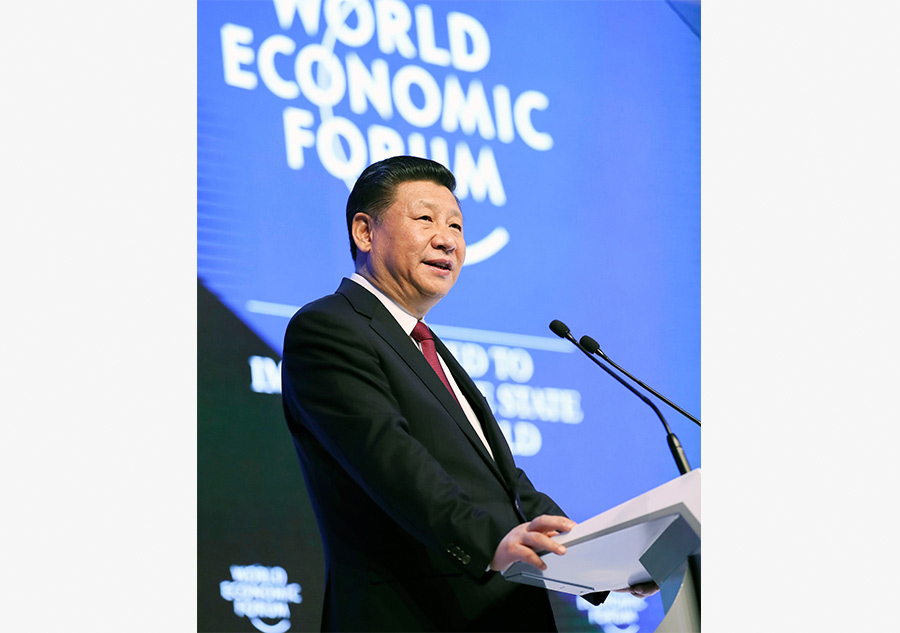 Xi Jinping delivers a keynote speech at the opening plenary of the 2017 annual meeting of the World Economic Forum in Davos, Switzerland, Jan 17, 2017. [Photo/Xinhua]
"We received more than 10,000 proposals from various departments and local governments. The difficulty was to prioritize them," recalled Zheng Xinli, former deputy director of the CPC Central Committee Policy Research Office. "It was Xi who made the final decision to focus on institutional weakness, the problems that triggered serious social conflict and those that the public most strongly petitioned against."
It was also Xi who made the final call about one of the major breakthroughs in the draft -- the report rephrased the market's role in allocating resources, from "a basic role" that had been reiterated by Party documents since 1992, to "a decisive role," a great leap in the relationship between the market and government.
Whereafter, a string of reform projects were undertaken, touching on the most difficult and tangled areas, from state-owned enterprises, household registration, fiscal management and rural land to public hospitals. Some of these programs used to be considered so sensitive as to be almost impossible.
The 2013 comprehensive reform plan included a policy change about residences provided for senior officials. For years they had been given permanent housing that they and their families could occupy even after retirement. Only accommodating incumbent officials had been discussed but not adopted until Xi's term.
Xi was called "our group leader" by the People's Daily, the CPC flagship newspaper, because, during the past five years, he has headed any number of leading groups covering key areas from overall reform, cyber security, military reform to finance and economic affairs. Xi also announced that the CPC would set up a central leading group for advancing law-based governance in all areas.
Xi was personally involved in the work of these groups, reviewing every draft of major policy sentence by sentence.
Sources close to him told Xinhua that all reports submitted to him, no matter how late in the evening, were returned with instructions the following morning.