Hong Kong plans rise of the virtual athletes
Fans cram into stadiums while millions of ardent viewers plug into the internet to cheer on avatars of geeky young stars battling it out on the screen, as Shadow Li reports from Hong Kong.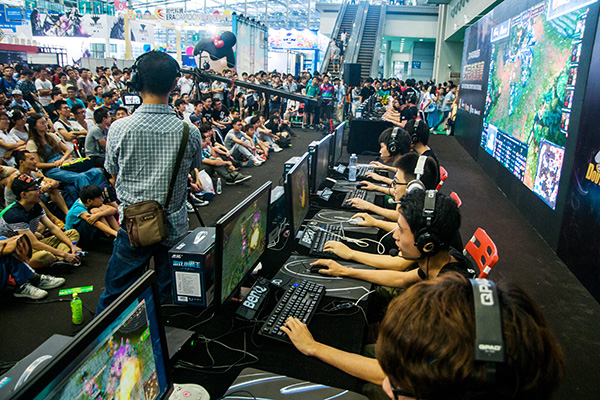 Players from across the globe participate in an e-sports competition in Shenzhen, Guangdong province.[Deng Fei/For China Daily]
Around 20,000 seats in the Staples Center in downtown Los Angeles are taking a pounding from crazy fans. Four huge screens are erected on the stage like a crystal cube with one of the world's highest-paid DJs in the center. The screens light up with animated unearthly creatures and the crowd goes wild.
The stadium, home to two famous National Basketball Association teams, the Los Angeles Lakers and the Los Angeles Clippers, has been taken over by another competitive activity that inspires fanatical devotion-electronic sports, or to use its trendy moniker, e-sports.
World-class players of League of Legends, one of the world's most popular and top-grossing online battle video games, have captured the hearts of 43 million unique viewers, with a peak concurrent viewership of 14.7 million worldwide in the final of the 2016 LOL World Championship on Oct 29.
Two teams from South Korea, with members age about 20, fought for the world championship via their avatars. They didn't even have to try that hard to impress their die-hard fans; no fancy moves, at least in the real world. Standing with slightly stooped postures, the teenagers fueled the global adulation simply by flashing geeky smiles and offering slightly awkward waves to the audience.
E-sports "athletes" are the poster boys for the sector's sudden rise. What was a solitary activity in the dark corners of internet cafes and viewed suspiciously by some as an indulgence to keep an eye on, has blossomed into a sophisticated, multiplayer open sport that has the potential to suck in the entire post-1980s internet generation.
Hong Kong has been relatively slow in catching up, despite e-sports' burgeoning popularity in the Chinese mainland and South Korea, the world's leaders in the field.
It was not until February that the city's Financial Secretary Paul Chan Mo-po used the term "e-sports" in official documents for the first time, recognizing it as "a form of international sports competition" with "economic development potential". The government tasked Cyberport, a "creative digital community" owned by Hong Kong Cyberport Management Co, with exploring the promotion of e-sports in Hong Kong.
Confronted with the huge market potential, Man Kin-fung, CEO of Global E-sports, a local e-sports company that owns PandaCute, the city's first female e-sports team, decided to take a headlong dive into the burgeoning industry.