Sport aids development of disabled
By Tian Xuefei in Qitaihe, Heilongjiang, and Zhou Huiying in Harbin | China Daily | Updated: 2017-07-20 07:10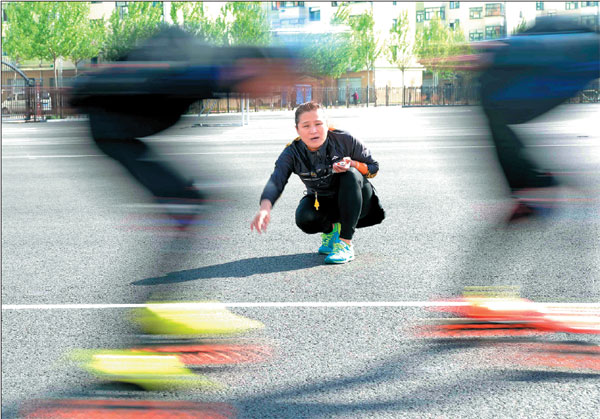 Zhang Jie coaches the Special Olympics short-track speedskating team she founded in Qitaihe, Heilongjiang province.Photos By Wang Kai / Xinhua
Former skating champion helps students realize their full potential
Every time a team member calls her "Mother Coach", Zhang Jie gets a warm feeling inside.
"They are like my own children - they are my pride and joy," Zhang said.
The team consists of 26 members who have disorders including Down syndrome, autism, attention deficit hyperactivity disorder, mental disturbance, intellectual disability or hearing disturbance.
During the 11th Special Olympics World Winter Games in Austria in March, three members of the team won a total of four gold medals and two silver medals.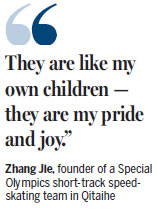 This achievement came just two and a half years after Zhang founded a Special Olympics short-track speed-skating team in Qitaihe in October 2014, which she decided to coach on a voluntary basis.
Zhang, 46, was born in Qitaihe, Northeast China's Heilongjiang province, and began learning how to skate at age 8.
She went on to win a gold medal in the women's 3,000-meter short-track speedskating relay at the 1993 World Short Track Speed Skating Championships in Beijing.
"I always wanted to remain involved in skating and my dream was to become a coach after retiring," Zhang said.
To become a qualified coach, she chose to study at home and abroad after her retirement in 1995.
After obtaining a bachelor's degree from Heilongjiang University, Zhang continued studying nutrition and exercise rehabilitation in Japan, where she was awarded several professional certificates.