Pickpocket hunter dreams of world without thieves
Feng Liming, 37, is a retired soldier, but he often dresses like a woman when he is in public. He always carries a wig, a pair of sunglasses and a blouse with him so he can disguise himself to catch pickpockets.
"Today's bad guys have learned some anti-detection techniques, so I have to be able to transform my appearance to resemble a college student or a female office worker within seconds," Feng said.
He is known and feared by many pickpockets, robbers and drug users in Taiyuan, capital of Shanxi province.
Feng graduated from Shanxi's police vocational college in 2009, but failed to pass the civil servant examination three times, preventing him from becoming a police officer.
He worked other jobs instead, but never gave up his part-time pursuits as an anti-pickpocket volunteer.
Over the past 19 years, Feng has caught more than 1,200 suspects.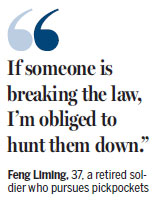 "If someone is breaking the law, I'm obliged to hunt them down until I catch them," he said.
When Feng was a high school student, he always wanted a mountain bike. His dream eventually came true, but the bike was stolen just days after he got it. "I wished for a world without thieves and felt the urge to do something about it," he said.
In 1998, Feng joined the military to "become strong and learn combat skills". One day in 1999, just after he got off a bus, he heard a cry.
A woman was shouting that her bag had just been stolen. She gestured toward a man riding a bicycle with a woman's bag hanging from the handlebars. Feng chased after the thief and shoved him to the ground.
Feng learned that the bag contained a large sum of cash to cover the woman's medical fees as she was seriously ill.
The experience inspired Feng to organized an anti-pickpocket team with his friends and colleagues. Before each mission, he would come up with a plan, detailing everyone's assigned position and duties.
His anti-pickpocket operations can be broken down into three steps: identifying, stalking and catching. Years of experience have given Feng and his teammates the ability to identify suspected pickpockets quickly.
In addition to catching thieves, he also tries to help those in need, and he once prevented a woman from committing suicide.
Criminals have left scars all over Feng's body. A pickpocket once sliced the blood vessels, nerves and tendon between two fingers on one of his hands. He had to undergo a minor operation involving a dozen stitches.
Feng's wife dares not walk with him on the street, fearing criminals might recognize him, and his child does not get much quality time with him. To make up for this, Feng spends all his spare time at home with his family.
"I was extremely worried about his safety at first. But I learned how good he is at this, and I convinced myself to rest assured, as he always comes home on time," Feng's wife said.
Early this year, he was asked to assist local police officers in handling cases, bringing him one step closer to becoming a real policeman.
"Catching pickpockets has become a lifetime habit for me - one I can't quit and don't want to give up," Feng said. "Whether I become a policeman or not, I will continue to do it."
Xinhua