Not 'small goal' to build hot word list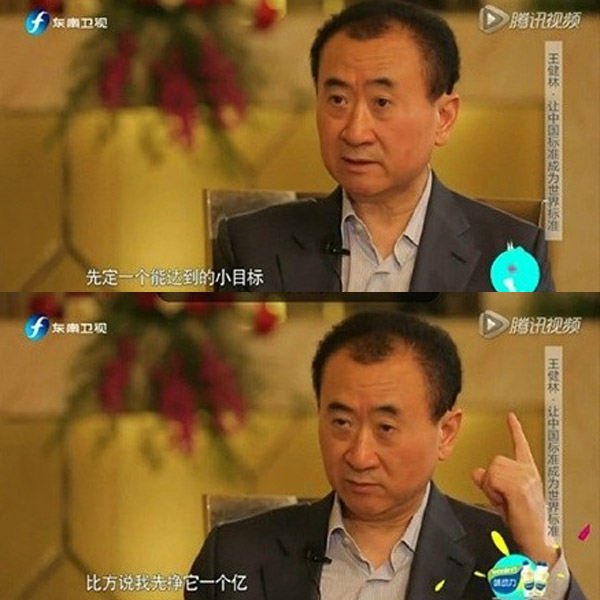 Screenshots of a show in which Wang Jianlin made the "a small target of 100 million yuan" remark.
Xiaomubiao -"small goal" in English-was one of the hottest phrases in China last year, according to a new set of lists released by the State Language Committee.
Netizens began widely using the term after Wang Jianlin, the chairman of Dalian Wanda Group, described making a fortune of 100 million yuan ($14.8 million) as a small goal in an interview in August.
Although he used it to mean something that is easily achieved, people on social media used it more ironically to express a goal that is well beyond their reach or even impossible.
For example, someone might write, "Let me set a small goal, such as losing 40 kilograms," or "Here's a small goal: Find a job that pays 1 million yuan a year."
Lists of popular words and phrases based on an annual assessment of characters used by Chinese-language media were released on Tuesday by the State Language Committee, the department under the State Council in charge of the nation's language reforms.
Some 12,000 characters were used almost 1 billion times in the Chinese media last year, Tian Lixin, director of the Ministry of Education's Department of Language Application and Administration, said at a news conference.
Words including afagou (AlphaGo, the artificial intelligence program that plays the ancient game go) and Mobai Danche (the Chinese name for bike-sharing company Mobike) were included in a list of the top 10 new words that appeared in the media.
Others like changzheng jingshen (the Long March spirit), Nanhai (the South China Sea), tuo'ou (Brexit) and meiguo daxuan (the US presidential elections) were among the top 10 popular expressions of 2016.
Tian added that 73 percent of China's citizens were able to communicate in Mandarin in 2015, up from only 53 percent in 2000.
China has more than 50 ethnic groups, some of which have their own spoken and written languages.
Last year the ministry set a goal of increasing the proportion to 80 percent by 2020.