Doctors look to break public system shackles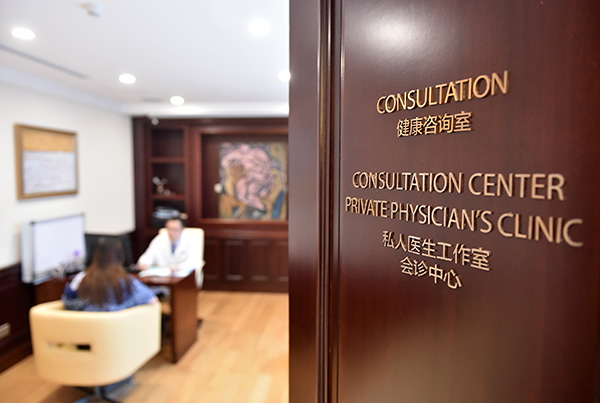 A patient consults a doctor at a private clinic in Guangzhou, Guangdong province. [Liang Xu/Xinhua]
Medical professionals are pushing for greater openness in the registration mechanism that can tie them to a single establishment for their entire career, as Yuan Quan reports for Xinhua China Features.
Editor's note: In the run-up to the 19th Communist Party of China National Congress, China Daily is reporting on a number of key projects of national importance that showcase the country's great improvements in crucial fields, such as recent reforms aimed at improving living standards and creating a moderately prosperous society by 2020. Today's report focuses on changes to China's medical system.
Despite appeals by his superiors, gynecologist Kang Kai was determined to resign from the hospital in which he had worked for nearly 20 years.
He said he left "for freedom and respect".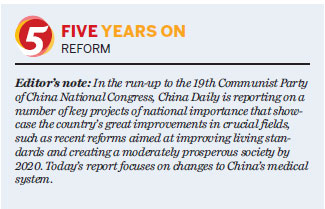 Kang, 45, worked at a leading public hospital in Chongqing, Southwest China. In the eyes of his colleagues and patients, the gray-haired doctor was eminent and respectable, but he describes himself as a slave: working around the clock, with just half a day off each week and "always ready for overtime".
As head of the gynecology department, Kang was responsible for dealing with hundreds of administrative inspections, meetings, medical disputes and studies that took up a huge amount of his time every year for no extra pay.
He also dealt with strained doctor-patient relations that could result in violence. Kang was even threatened twice himself.
"It was very disheartening," he said. "I didn't want to work that way."
In 2015, he moved to Beijing and became a freelance specialist, seeing patients at different hospitals, mainly private ones. Last year, uniting about 100 leading doctors nationwide, Kang set up Woyi, which means "fertile ground for doctors", China's first group for gynecologists.
He is one of a growing number of Chinese doctors offering their services outside the public hospital system where they made their reputations. "I feel like a fish swimming from a pond to an ocean," he said.
Imbalances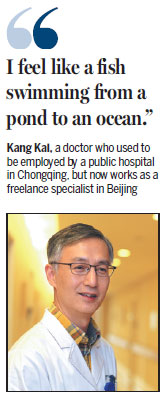 Giving doctors the freedom to choose where they see patients helps to tackle China's chronic imbalance in medical resources, according to Kang.
About 80 percent of the country's medical resources are found in big cities, such as Beijing and Shanghai, and 30 percent of them are in big public hospitals, which are flooded with patients eager to see eminent physicians.
The process of seeing a doctor at a big hospital is a miserable one. The sick must line up overnight for tickets, competing with scalpers, whose prices can be 1,000 times the official fee.
The time a doctor has for each appointment is tight. Kang once saw as many as 80 outpatients a day, each for just 2 or 3 minutes. "It was the only way to get away from work at a reasonable time," he said.
Doctors grumbled about "being nailed to a chair all day" without even time for a toilet break, Kang said.
He admires how medical staff in the United States and Europe can work for more than one hospital, either public or private. Moreover, thanks to the hierarchical medical systems in those regions, patients can receive high-quality services at nearby clinics.
In China, medical staff and facilities are in great demand, so hospitals struggle to attract and retain good doctors. In 1999, a law was passed that required doctors to be registered with one hospital, which would be responsible for their pay, welfare and professional position until retirement.
Doctors who were not registered with a medical institution were often considered quacks.
The regulations began to be eased in 2009, when the State Council published a plan that allowed doctors to offer their services at more than one hospital. In October, the government released the Healthy China 2030 blueprint to "explore the practice of freelance physicians and doctor groups".
Regulations issued in March also supported doctors who want to run their own clinics.