Hong Kong plans rise of the virtual athletes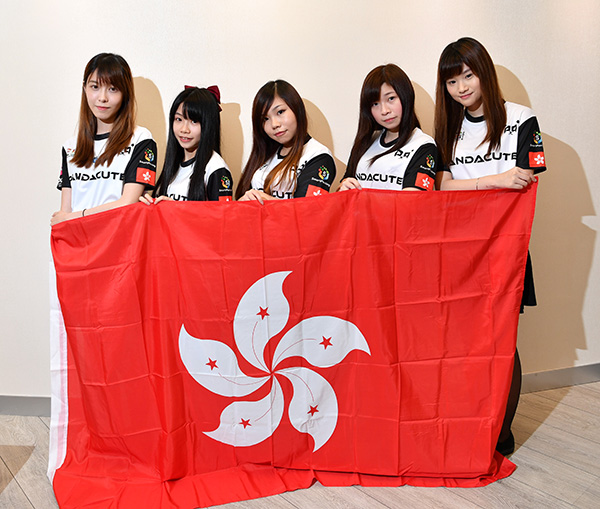 The five members of PandaCute, an all-female e-sports team, display the flag of Hong Kong during an event in the city.[Photo provided to China Daily]
According to Man, the rapid growth of e-sports reminds him of the time Facebook first emerged. Man acquired a South Korean live-broadcasting platform, and through that acquisition, he became acquainted with a teenage girl nicknamed "Deer", who brought him into the e-sports world. Deer, a League of Legends enthusiast, wanted to build a five-member female team to play in a match hosted by a local internet cafe. Man became the catalyst for Deer to realize her dream, helping her team to win its first local title.
The five teenage girls quickly got used to the life of professional e-sports athletes. All too aware of Hong Kong's strained land supply and high rents, PandaCute's members approach their new roles as full-time jobs.
Although dedicated, their routine is mild compared with some places where e-sports teams are sent to boot camps to train, live in dormitories and remain isolated from the world before they make their debuts-just like budding pop stars.
The girls go to their office at about 10 am. They play e-sports on their own in the morning and then begin group training in the afternoon, including a team battle. Following this, they will review their battle strategies and failures. They usually call it a day at around 6 pm-sometimes 8 pm if they get carried away.
"I want to build a healthy image of e-sports players to combat the traditional misunderstanding of staying up all night playing video games immoderately," Man said.
Talking about e-sports obviously excites the 30-something "big kid", whose eyes sparkled as he spoke about the success of e-sports and future prospects.
A common notion is that e-sports players' professional lives are short, with reflexes said to be dulled by the time they reach age 25. But Man noted there are prospects for players who retire. The e-sports sector has spawned a bonanza, leading to a fully fledged industry chain to support related roles.
"They could be trainers, anchors hosting online live broadcasts and explaining games, game consultants, managers of e-sports teams, and so on," he said, though he added that just as in physical sports, athletes are not guaranteed a bright future after retirement.
The tech-based nature of e-sports also promises continuing growth, and unlike traditional sports it can reach remote regions and involve an ever-growing number of people.
"I foresee that in the near future, people will watch the League of Legends world tournament with virtual reality glasses and a 4-D experience," Man said.
He conceded that e-sports have not fully taken shape in Hong Kong because the ecosystem is incomplete, despite the high-speed development globally.
E-sports have made a name worldwide. In 2003, China listed e-sports as an official sport. Since then, the sector has taken off, with a market value of 40 billion yuan ($6 billion) last year. Viewership of matches in China has grown to 170 million, accounting for more than 50 percent of e-sports viewers worldwide. In April, the Olympic Council of Asia announced that e-sports will be an official medal sport at the 2022 Asian Games in Hangzhou, Zhejiang province, after being added as a demonstration sport at the 2018 Games.
The world has been wowed by the rapid development. According to Newzoo, an e-sports researcher and consultancy, by the end of the year nearly 190 million people will be employed in jobs related to e-sports.
Global profits from the sector should surpass $1 billion in 2019-more than double the figure in 2015.