Hong Kong plans rise of the virtual athletes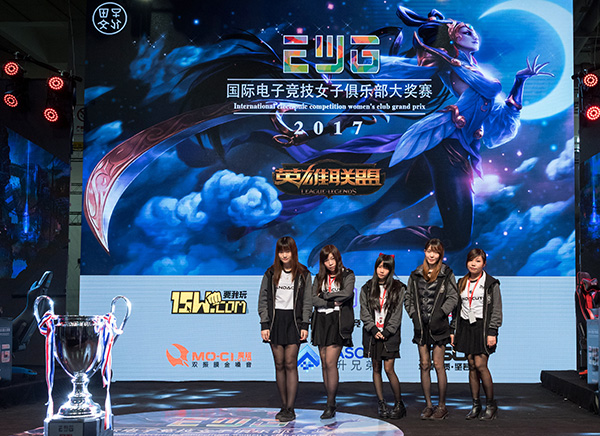 PandaCute attend the final of an e-sports competition for women in Ningbo, Zhejiang province.[Photo provided to China Daily]
In a groundbreaking move, the company forged ahead with Hong Kong's first E-sports Festival in 2015 by partnering with the Hong Kong Computer and Communications Festival, a pilgrimage event for geeks and tech enthusiasts. A HK$100,000 prize pool was offered for onsite e-sports matches.
The second E-sports Festival in August last year, which was heavily sponsored by tech companies, attracted at least 80,000 visitors during the four-day computer fair, creating a much-needed ripple of excitement for the already lackluster tech fair.
Cyber Games Arena had to start from scratch-finding sponsors, suitable kits for live-broadcasting and venues, among other things.
E-sports is picking up in Hong Kong, but the pace is still not comparable with that of other Asia-Pacific regions, which represent 47 percent of the $99.6 billion global games market, as revealed in the Newzoo report.
More sizable investments are expected in the mainland, with Tencent, the leading player in the gaming industry, building a gaming complex with a gaming university, a cultural and creative park, an animation park and a creative neighborhood in Wuhan.
Still, Hong Kong has the potential to make e-sports work, thanks to the city's easy visa application procedures, internet speed, linguistic advantages, resources and experience in hosting international events.
Cultivate talents
Chow proposed that Hong Kong should host international e-sports games and the city should improve its efforts to cultivate e-sports talents by changing the social atmosphere to make gaming more acceptable to the general public, especially parents.
Next month, the city will host the Esports and Music Festival Hong Kong at the Hong Kong Coliseum in Hung Hom, Kowloon-the first e-sports open event held by the government-to attract visitors from across the globe.
The 2022 Asian Games will be a huge opportunity for Hong Kong to establish a foothold in the e-sports realm if it can send a local team to compete, Chow said.
Man said that as key cities in the Greater Bay Area, Guangzhou and Hong Kong can team up to consolidate the e-sports industry.
"We have the resources and talents, and the Chinese mainland has the land and venues to host e-sports matches in the Greater Bay Area. It is like 'a river is formed when water comes'," Man said, quoting an old Chinese maxim.