The stories that made our year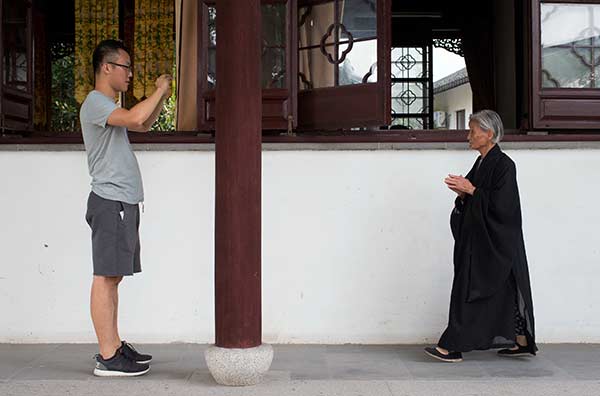 Tang Yue (left)
From revolution to religion
By TANG YUE
I was saddened by the news that Master Mingxue, abbot of Lingyanshan Temple in Suzhou, Jiangsu province, had passed away on Dec 2 at the age of 93.
In August, I visited the 1,700-year-old temple to write a story about the nursing home it has operated since 2012 which is home to more than 60 lay Buddhists, most of them age 75 or older.
During the "cultural revolution" (1966-76), the land on which the nursing home stands was a State farm, and Master Mingxue, then-manager of the monastery, and the other monks worked the land for a decade.
By the end of last year, there were 222 million people age 60 and older in China. Of the more than 40,000 nursing homes across the country, 474-about 1 percent-are run by religious institutions.
During my visit to the temple, I met Master Mingxue, one of China's most respected monks.
His voice was weak, but he was spritely.
He told me that because the population is aging rapidly, Buddhist temples have a big role to play in dealing with the issue.
Besides their distinctive vegetarian diet and devotional habits, such as chanting for several hours a day, Buddhist nursing homes are radically different from the secular institutions that offer regular hospice care.
For example, as part of the religious practices at the home, chants and prayers are offered up for those approaching death.
It was good to be informed by Jin Hongzhan, vice-president of the nursing home, that Master Mingxue was at peace in his final moments as the monks and lay Buddhists chanted for him.
I hope all the residents enjoy happy lives at the home, and that their passing from this world is as peaceful as Master Mingxue's.

Editor's picks

Copyright 1995 - . All rights reserved. The content (including but not limited to text, photo, multimedia information, etc) published in this site belongs to China Daily Information Co (CDIC). Without written authorization from CDIC, such content shall not be republished or used in any form. Note: Browsers with 1024*768 or higher resolution are suggested for this site.
Registration Number: 130349