The stories that made our year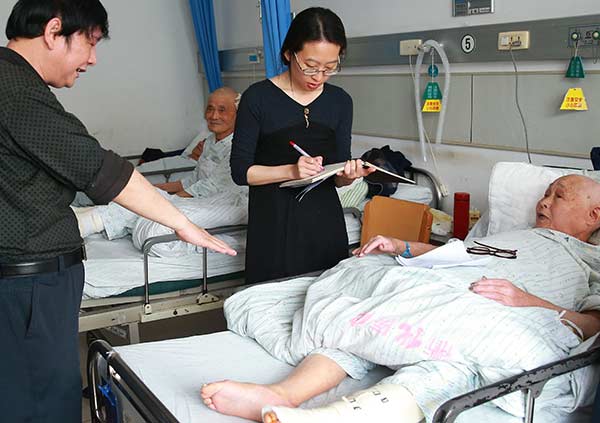 Zhao Xu (center)
Wounds of war
By ZHAO XU
The biggest moment for me this year was when I came face to face with the wounds of war, open and festering, in Quzhou, a city in Zhejiang province ravaged by war that has now become a prosperous place.
However, even after more than seven decades the wounds left by Japan's occupation of China have yet to heal.
I had gone there to meet a group of "rotten-leggers"-victims of Unit 731, the Japanese army's notorious germ-warfare division during World War II.
These men, mostly in their 80s and 90s, have endured pain for virtually their whole lives, totally unaware that the cause of their problems was anthrax bacteria spread by the Japanese army, which affected many parts of Zhejiang and neighboring Jiangxi province in 1942.
The people unaffected by the attack were also unaware of the cause: many just attributed the oozing ulcers on the men's feet and legs to poor hygiene, or even just bad luck. The stigma was like having salt rubbed into their wounds.
Things began to change this year when a public donation platform was launched by Wang Xuan, a social activist-cum-germ-warfare historian who has been central to efforts to gain justice for victims of Japanese war crimes.
Wang teamed up with doctors from a local hospital, and so far, more than 50 people have undergone treatment to ease their suffering.
Of course, many other victims didn't live long enough to find that sense of relief.
Zhejiang is one of China's most affluent provinces, so many questions remain.
For example, how could it be that these men, who survived the bloodiest invasion in the country's modern history, were left without care for so many decades?
Furthermore, why has no serious research, including the recording of oral history, been conducted to examine the link between the disease and the bacteria attack?
The survivors should not still be waiting for the answers to those questions.

Editor's picks

Copyright 1995 - . All rights reserved. The content (including but not limited to text, photo, multimedia information, etc) published in this site belongs to China Daily Information Co (CDIC). Without written authorization from CDIC, such content shall not be republished or used in any form. Note: Browsers with 1024*768 or higher resolution are suggested for this site.
Registration Number: 130349