The stories that made our year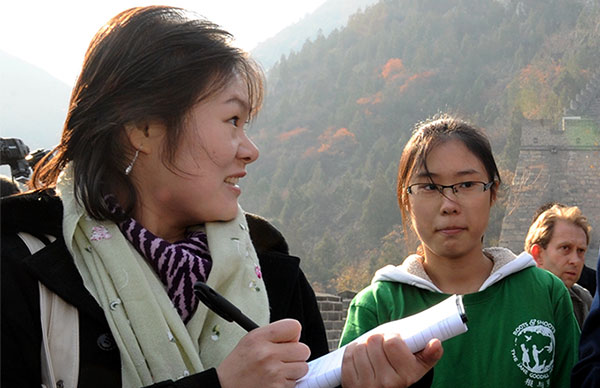 Zhang Yi (left)
An unforgettable experience

By ZHANG YI

In nearly 12 years as a journalist, I have conducted thousands of interviews and witnessed many big events. A month ago, when I was assigned to report on narcotics control in Yunnan province, a region that borders Laos, Myanmar and Vietnam, I never imagined that it would be my most unforgettable experience for many years.
When I arrived in the tropical mountainous area after an excruciating trip and attended a field inspection with narcotics officers from Mukang station in Mangshi, a gateway targeted by drug traffickers, I realized that the young officers, mostly in their 20s, face deadly dangers every day.
Even when wearing full body armor, they are still exposed to unpredictable threats. Most of them were fresh out of high school when they were recruited as armed police officers.
None of them had any idea of the life-and-death situations they would face in their work. Some officers have lost their lives in the line of duty. For others, the job of inspecting suspect vehicles requires selfless devotion and professional skill. Moreover, much of the work is tedious, unglamorous and unheralded.
The story of a 20-year-old female narcotics officer struck me most. A year ago, she was a typical middle school student-an aspiring fashionista, who enjoyed Korean movies and hanging out with friends. Now, she has learned to do everything from vehicle inspections to apprehending suspects. She has even overcome her aversion to what she saw as the worst part of her job as a new recruit-performing cavity searches to extract packets of drugs swallowed by "mules".
During our interview, she told me that after her first extraction, she couldn't eat for two days and vomited several times, even days later. She even thought about quitting the job. However, the thousands of cases at the station and the support of her colleagues convinced her to continue.
Now, when I see media reports that focus on economic "miracles", business tycoons, glamorous celebrities or just anecdotes, I think of this group of public servants who are worthy of greater attention and deserve more respect from society.

Editor's picks

Copyright 1995 - . All rights reserved. The content (including but not limited to text, photo, multimedia information, etc) published in this site belongs to China Daily Information Co (CDIC). Without written authorization from CDIC, such content shall not be republished or used in any form. Note: Browsers with 1024*768 or higher resolution are suggested for this site.
Registration Number: 130349