The stories that made our year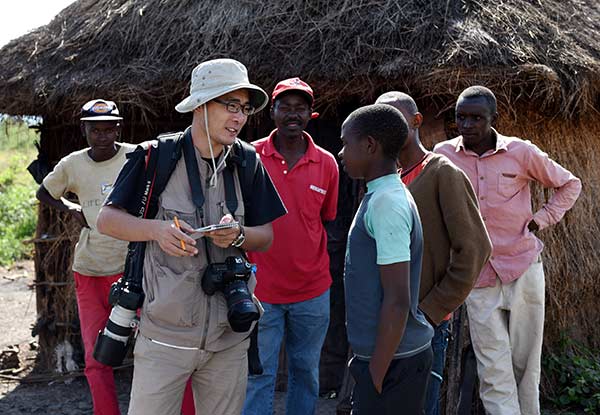 Hou Liqiang
The bravest boy in China
By HOU LIQIANG
In August, I was reunited with Guo Bin, one of the bravest people I have ever met.
In 2013, when Guo was 6, his eyes were gouged out by an aunt. The motive for the attack has never been established because the woman was found dead shortly afterward.
The horrific incident attracted global attention and condemnation, and people across the world responded by sending donations to the hospital where the boy was being treated to help pay his medical bills.
At the time, Chinese social media was abuzz, but one comment remained in my mind: "Sooner or later the boy will be forgotten, but he will live in darkness for his whole life." To some extent, that prediction was correct-Guo, known affectionately as Binbin-has been all but forgotten, but that doesn't mean he lives in darkness.
The first time I met Binbin was at the hospital in Taiyuan, the capital of Shanxi province, where he was trying to come to terms with what had happened to him.
He kept touching the toys that people had sent him, trying to figure out what they were. Suddenly, he asked: "Why is it dark all the time?" It was a heartbreaking moment.
A short time later, my work took me to Kenya for almost two years, and although I kept in touch with Binbin's mother, I didn't know much about the boy's condition.
When we met again, he was in Beijing to participate in the national ocarina tournament. I hadn't seen him for almost three years, and I was astonished by how much he had changed and grown.
"I want to be a musician," he told me, enthusiastically. He smiled all the time, especially when his team was awarded the gold medal.
His teacher told me that the 9-year-old also plays bass guitar in a band, and music is the dominant force in his life.
So, despite the prediction, it seems that Guo will not live in darkness forever.
Rather, he has found a guiding light through the power of music.

Editor's picks

Copyright 1995 - . All rights reserved. The content (including but not limited to text, photo, multimedia information, etc) published in this site belongs to China Daily Information Co (CDIC). Without written authorization from CDIC, such content shall not be republished or used in any form. Note: Browsers with 1024*768 or higher resolution are suggested for this site.
Registration Number: 130349