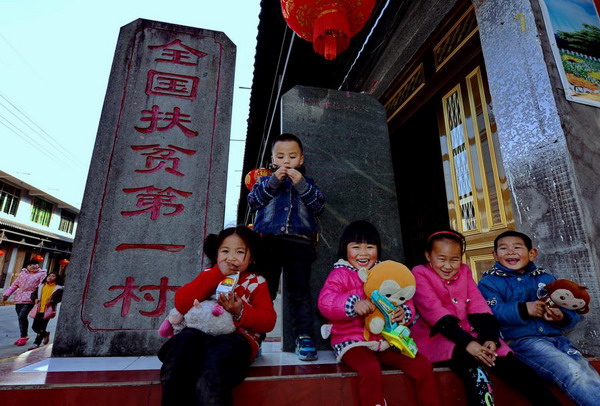 Children of She ethnic group sit in front of a monument that reads "China's No. 1 Poverty Relief Village" at Chixi Village, Panxi town, Fuding city in East China's Fujian province, Feb 14, 2016. The village has shaken off poverty thanks to assistance from Party and government officials at all levels over the past 30 years. [Photo/Xinhua]
The Chinese government on Monday issued a white paper that hailed the efforts and progress made in poverty alleviation and human rights.
The white paper, titled "China's Progress in Poverty Reduction and Human Rights," said poverty reduction is the most telling evidence of China's progress in human rights.
The white paper said China has made an enormous contribution to poverty reduction worldwide. Over the past 30 years since the launch of the reform and opening up drive, more than 700 million Chinese people have been lifted out of poverty.
According to the UN Millennium Development Goals Report 2015, the proportion of people living in extreme poverty in China fell from 61 percent in 1990 to 4.2 percent in 2014, with the number of people China has raised from poverty accounting for 70 percent of the world's total.
By the end of 2015, China still had 55.75 million people living in poverty. The country plans to lift all of its poor out of poverty by 2020.