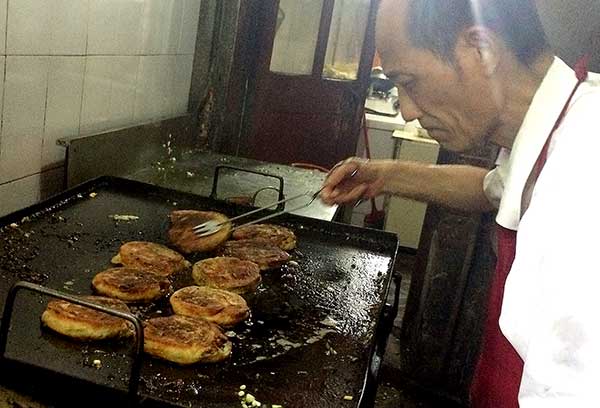 Wu Gencheng prepares spring onion pancakes in his stall in Shanghai on Monday.[Yin Liqin/for China Daily]
60-year-old vendor with a disability had sold popular food for 13 years
A street vendor of spring onion pancakes whose popularity skyrocketed because of a favorable review in a BBC documentary has been shut down for operating without a license.
It is not expected to reopen until the authorities decide how to handle the matter.
The roadside stall, specializing in the traditional Shanghai snack-also known as scallion pancakes-has drawn a huge number of fans who wait every day to buy them, even lining up before dawn without knowing or caring that the owner, Wu Gencheng, can't get his expired license renewed.
The commercial administration department of the city's Huangpu district said on Wednesday that it will discuss the situation with environmental protection authorities and the neighborhood committee to draw up a solution for Wu, who has been making and selling the snack at his home on the first floor of an old residential building for 13 years.
"No matter how popular it is, we can't give special privileges. We'll help the stall to operate legitimately," the department said in a written statement delivered to China Daily.
Wu, 60, lives with a disability-a severe humpback. He has been making the pancakes since 1982 at different locations in Shanghai until he moved the microbusiness back to his home.
Although the license could not be renewed because doing business at a private residence is not allowed, the tasty pancake, depicted as "deliciously crisp, doughy and very savory" in the BBC documentary broadcast earlier this year, won many people's hearts.
"I thought about applying for a business license, but I knew I'd fail because it was in a residential building," Wu said.
It's not the first time Wu's stall has been at the center of controversy. He was ordered to shut down in July after someone complained of the stall's kitchen exhaust and the inconvenience caused on other residents in the building.
Other companies offered to cooperate with Wu and produce the snack at a legal venue, but he rejected all of them, citing health, rent and other reasons.
"I made about 10,000 yuan ($1,500) every month by selling the pancakes," he said. "But rent for a shop in the area is nearly 30,000 yuan, and I don't want to work far away from home as I cannot stand it physically."
Despite being of retirement age, he said he needed the business to carry on because it's the only source of income for him and his younger brother, who has a mental disorder.
Wu's story generated widespread sympathy among web users, who said bureaucracy was to blame for shutting down the popular stall over a trivial matter like licensing, not over food safety or other good reasons.
Customers unaware of the stall's closure continued to come on Wednesday.
"Local snacks are usually a name card of a place and the taste of a hometown," said Zhong Peng, who works nearby and who bought Wu's pancakes regularly. "But such low-profit businesses are disappearing in the waves of soaring real estate prices."