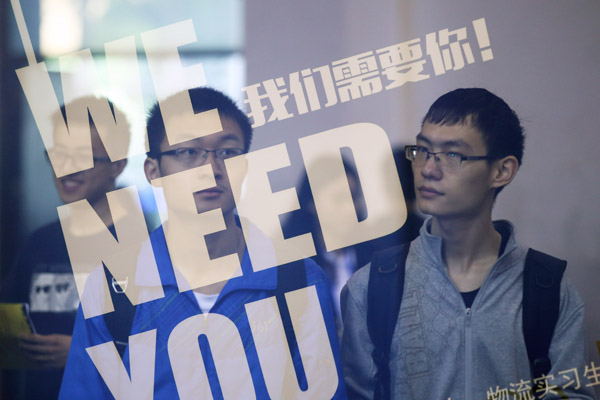 College students attend an intern opportunity fair held in June at Nanjing University of Aeronautics and Astronautics in Nanjing, Jiangsu province. [Photo/China News Service]
Focus on globalization, aging populations, technical progress
The 2016 G20 Labor and Employment Ministerial Meeting, held in July, involved in-depth discussions on globalization, technological progress and aging populations, with a particular focus on the opportunities and challenges these issues posed to the labor markets of G20 economies. The major outcomes of the meeting were as follows:
1. The G20 Entrepreneurship Action Plan was adopted. G20 economies agreed to carry out action plans and strengthen efforts to nurture the conditions that unleash the entrepreneurial potential of this valuable human capital, especially of our youth. G20 economies welcomed China's leadership in the establishment of the Entrepreneurship Research Center on G20 Economies as a platform to deepen information exchange and extend the sharing of good practices among G20 members in support of this action plan.
2. The G20 Initiative to Promote Quality Apprenticeship was adopted. G20 economies committed to offering high-quality apprenticeships and developing workforces that possess strong capacities in both theory and practice and meet the needs of the labor market.
3. G20 members were urged to adopt well-targeted job creation policy measures based on national conditions. This had been the first time that a whole package of policy recommendations was produced on social protection. The meeting adopted Policy Recommendations to Enhance Employability, Sustainable Wage Policy Principles and Policy Recommendations for Promoting More Equitable and Sustainable Social Protection Systems.