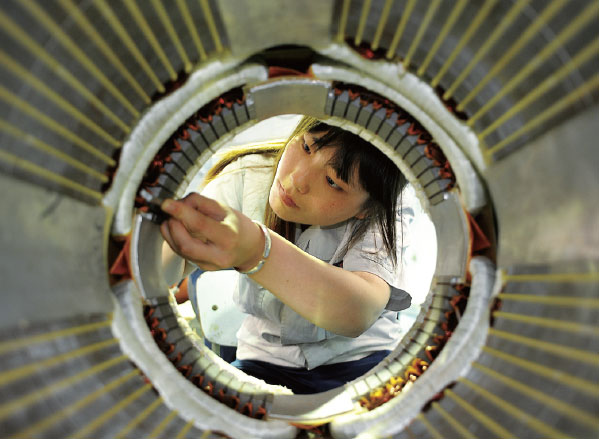 A student works on an electric motor at the Shanxi Yongji Advanced Technician School, which has trained 12,000 skilled technicians since it was established in 1974.[Photo by Liu Baocheng/For China Daily]
Many workers lack expertise required by key industries, says govt minister
All G20 members face the challenge of employing lower-skilled workers in a difficult economic environment, but China has taken positive steps to tackle the problem, according to a senior official.
At the 2016 G20 Labor and Employment Ministerial Meeting held in July, Yin Weimin, minister of human resources and social security, explained that China's problems are twofold: an estimated 15 million new job seekers will enter the labor market every year between now and 2020, and many workers lack the skills required by the industries that are at the heart of the country's development plans.
He described fresh college graduates and workers lacking the necessary skills as the country's "most pressing issue", which was also the "main focus" of the meeting.
According to the World Economic Forum's Human Capital Report 2016, approximately 25,000 new workers will enter the labor market in developing countries every day between now and 2020, while more than 200 million people globally are unemployed.
Yet at the same time, there is expected to be a world shortage of some 50 million highly skilled applicants over the coming decade.
To make sure there are enough skilled workers to match the available job vacancies, China has focused on maintaining a large number of labor-intensive industries during its economic transformation and upgrades, while at the same time promoting the service industry, Yin said.
"We are also promoting small - and medium-sized enterprises, which form the largest platform to offer employment," he said.
"Such companies could absorb more than 80 percent of job seekers."
The Chinese government has also launched training projects and an entrepreneurship consulting service to help those facing difficulties finding work, Yin added.
"Through education, we hope that those in difficulty can rely on themselves to change their situation," he said. "We have encouraged many people to start their own business by providing training, consultation and financing guarantees. Their startup projects could also provide more job opportunities."
Li Shanxiang, deputy head of human resources at Linyi Mining Group in Shandong province, said the company had signed a contract with Shandong Coal Technician College, to train 100 medium-skilled workers over the next two years. This is part of China's apprentice program to foster job skills around the country.
"We are very keen to cultivate our workers into highly-skilled ones. The new apprenticeship model provides one teacher for three to five apprentices and special training for them," Li said.