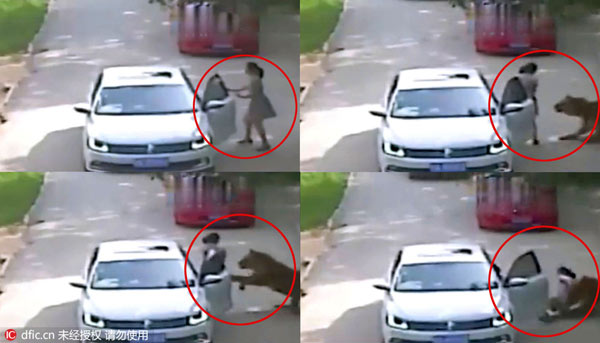 Screen shots show a tourist being attacked by a Siberian tiger in Badaling Safari World in Beijing, July 23, 2016. [Photo/IC]
A report on a fatal tiger attack at a wildlife zoo in Beijing released by the city's Yanqing district government on Wednesday blamed tourists for ignoring safety reminders.
But the report said the zoo should make greater efforts to remind tourists of the safety risks, and should commission an overall security check by a certified third-party organization and submit the result to the government.
The report followed an investigation of a tiger attack on July 23 at Badaling Wildlife World, near the Great Wall in Yanqing district. A female tourist from Anhui province who left her car was attacked and dragged away by a Siberian tiger. The woman's mother rushed from the car to help but was attacked and killed by another tiger. A third tiger was also present.
The first woman was seriously injured, but has now been discharged from the hospital.
Zoo personnel in a nearby patrol car intervened within one minute, the report said. Within two minutes, the tourist's car was guided out of the tiger zone.
The investigative team said the woman who died, surnamed Zhou, and her daughter, were attacked because they ignored the rule that tourists should stay in their cars, as well as warnings from patrol cars.
No reason has been given for why the younger woman suddenly left the car. Relatives who were interviewed earlier claimed the women wanted to change drivers and thought they had left the tiger zone.
Many Chinese netizens expressed support for the zoo. According to an online poll conducted by Sina, more than 310,000 respondents expressed an opinion, but only 2.3 percent of them thought the zoo should be punished.
Hu Chunmei, an animal-rights activist at Nature University, a Beijing-based animal protection organization, said administrative flaws must have been a factor, since similar incidents had occurred previously.
Wang Xiaoshan, a Chinese writer, raised objections on social media.
"The zoo provides a bad product but hopes its customers understand the risk," Wang said. "When we bought the tainted milk powder, we all knew the producers should be held responsible. The case is the same with the zoo."