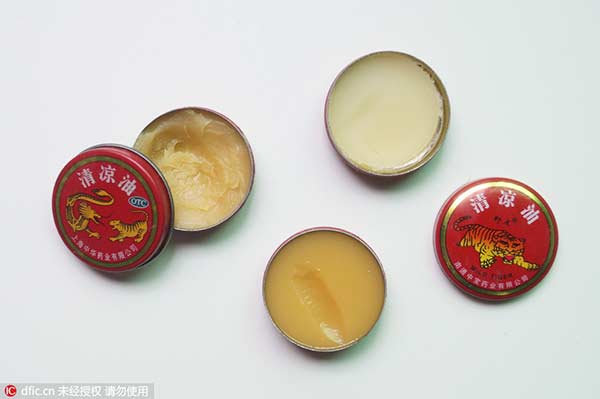 Dragon & Tiger balm. [Photo/IC]
Although it's wise not to venture out when the outside temperature is reaching boiling point, staying indoors 24/7 is also not possible. So what's the solution? Well, like everything else in life, internet seems to have the answer.
Apart from joking that they would live forever anywhere that has air conditioning and Wi-Fi, online users are also sharing and saving "magical" solutions that can beat the scorching heat.
Some traditional Chinese medicine (TCM) recommendations stand out not only because those in China swear by them but also because those living abroad believe in them.
Dragon & Tiger balm is one such ointment. It contains many herbal formulas, such as menthol, camphor and mint oil, that its fans claim keep their skin cool.
The balm is commonly applied on temples to keep the body cool and refreshed. Some also use it as a mosquito repellent due to its strong smell and also to ease carsickness.
Many foreigners also love the balm. On Amazon.com, several claim it helps in reducing shoulder pain, migraine and Sciatica.
A user called "Liz Hart" praising the medicine said: "[It] has changed my life. It helps in Sciatica like nothing else."
The ointment is widely known from Asia to Africa where heat and mosquitoes are eternal companions.
Many people online said their Asian and African friends enthusiastically buy lots of balm in China and take it back home as gift.