President Xi tells visiting Obama adviser Rice of willingness to deepen cooperation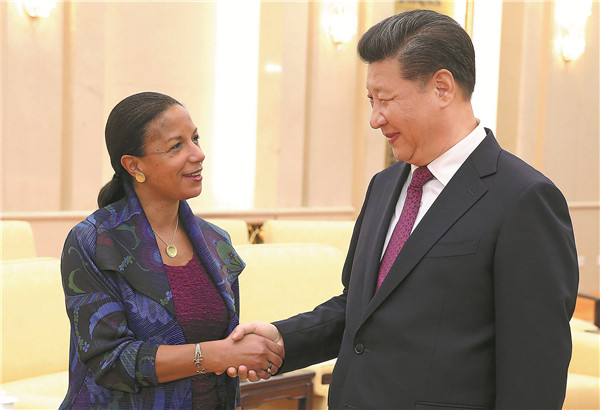 President Xi Jinping greets US National Security Advisor Susan Rice during their meeting at the Great Hall of the People in Beijing on Monday. The two sides agreed to effectively control their differences. WU ZHIYI / CHINA DAILY
Beijing and Washington vowed on Monday to boost mutual trust and effectively control differences, in the highest-level visit by a White House official since an arbitration tribunal's ruling on the South China Sea intensified regional tensions.
"China is willing to work with the US to ... boost mutual trust, deepen cooperation and manage and control differences in a constructive way," President Xi Jinping told US National Security Advisor Susan Rice, according to a news release issued after the meeting. The release did not directly mention the South China Sea issue.
Rice is in China from Sunday to Wednesday for talks with Chinese officials to prepare for US President Barack Obama's attendance at the G20 summit in Hangzhou, Zhejiang province, in September, both Beijing and Washington have said.
Her visit also came amid tensions in the South China Sea after Beijing rejected a July 12 arbitration ruling in a case unilaterally brought by the Philippines.
At the same time, an advanced missile defense system that the United States and the Republic of Korea decided to deploy in the ROK has drawn strong opposition from China and Russia.
"China has no intention to challenge the existing international order and rules," Xi said, adding that the two nations have to respect each other's core interests.
The president said he expected to meet with Obama at the G20 summit to "set a clear direction and lay the foundation" for stable development of bilateral ties in the future. A presidential election will be held in the US in November.
Rice told Xi that Obama holds similar views on bilateral ties. She said Obama has always believed that US-China ties are the most important in the world.
Rice said the US favors increasing mutual trust with China through joint efforts and managing disputes through close communication.
The visit comes on the heels of a visit last week by Admiral John Richardson, US chief of naval operations, who discussed the South China Sea with Admiral Wu Shengli, commander of the People's Liberation Army Navy.
Fan Jishe, a researcher of US studies with the Chinese Academy of Social Sciences, said the visits by Rice and Richardson show that "despite the tensions at sea, both sides are willing to sit down to discuss and control risks".
"The visits will help boost confidence ... on a stable relationship between Beijing and Washington," he added.
Shi Yinhong, a US studies expert with Renmin University of China in Beijing, said the discussion also was likely to have touched upon the planned US-ROK deployment of the advanced missile defense system, which China says will destabilize the balance of security in the region.
Rice also met with China's top diplomat, State Councilor Yang Jiechi, earlier on Monday.
She will visit Shanghai later to meet with business executives on her fourth trip to China as national security adviser, the White House said.
Contact the writers at lixiao-kun@chinadaily.com.cn