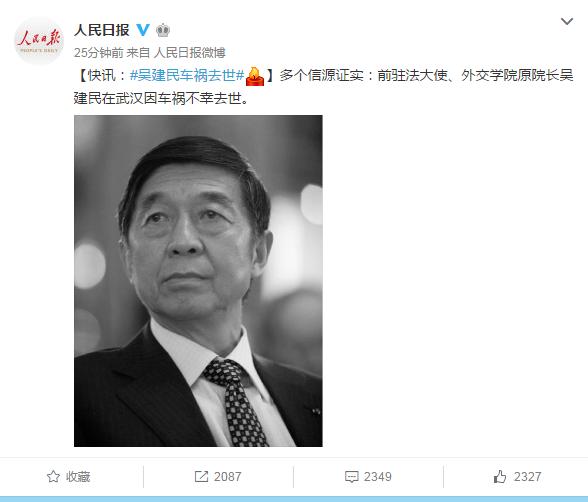 Wu Jianmin, former Chinese Ambassador to France, has died in a car accident in Wuhan, Hubei province in the early morning on Saturday, according to China's Ministry of Foreign Affairs.
The accident happened at the south exit of Donghu Lake Tunnel in Wuhan at about four o'clock on Saturday. Two people died and one was injured.
The car ran into the flower bed in the middle of the road after picking up Wu who was about to give a seminar in Wuhan University in the morning.
"We feel deep grief after hearing Wu Jianmin, former Chinese ambassador to France, passed away this morning. We French people have lost a great friend, who knew France and made great contributions to the relationship between France and China. Please allow me on behalf of the French people to express deep condolence to the family members of Wu," said Maurice Gourdault-Montagne, French ambassador to China.
Wu had worked as an interpreter for former Chinese leaders such as Mao Zedong, Zhou Enlai and Chen Yi.
Wu was born in 1939 in Chongqing and graduated from the Beijing Foreign Languages Institute, majoring in French, in 1959. He obtained a postgraduate degree in translation and interpretation.
Wu had a distinguished career as a diplomat, and served as ambassador of China to the UN until 1998.
He worked in many posts such as Chinese Foreign Ministry spokesperson, as ambassador to the Netherlands, Geneva and France.
Elected as the president of the Bureau International des Expositions in 2003, Wu is the first Chinese and Asian as well as the first person from a developing country to serve in the crucial post.
In 2003 he was appointed president of China Foreign Affairs University and served for five years.