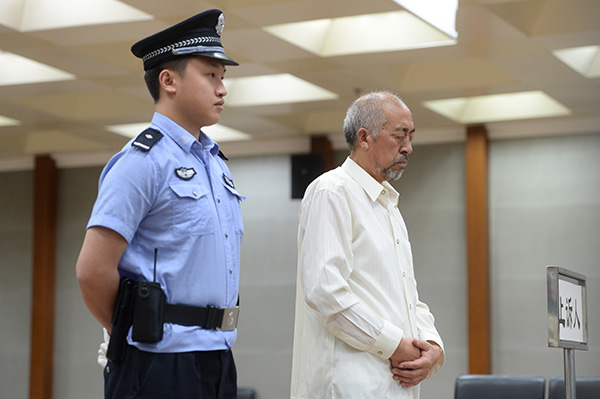 The one-year sentence of a man surnamed Li, who was convicted of molesting a 5-year-old girl, was upheld by Beijing No 2 Intermediate People's Court on Tuesday. CAO BOYUAN/CHINA DAILY
The right to be a child's guardian must be removed whenever parents and guardians are found to have sexually abused minors, officials from China's top court said on Tuesday in response to a rise in such cases in recent years.
The Supreme People's Court asked courts at all levels to strictly deprive guardianship, a move aimed at protecting children, said Ma Dong, a judge in the research department of the top court.
Chinese courts sentenced 6,620 offenders involved in 7,610 cases relating to child molestation between 2013 and 2015, according to the top court.
During that three-year period, the number of such cases before the courts rose by a staggering 48.9 percent.
"The significant rise has made people in all walks of life pay closer attention to the issue," Ma said.
Of the 12 high-profile cases publicized by the top court on Tuesday, in which courts deprived parents' rights of guardianship over their children, one-third of them were because of rape, sexual abuse or other molestation, Ma said.
In one case, from January 2015, Tongshan District People's Court in Xuzhou, Jiangsu province, removed a couple's right of guardianship over their child after finding the father had frequently sexually assaulted his daughter and that the mother had done nothing to stop the abuse. The father was sentenced to 11 years in prison and the 12-year-old was taken into care, the top court said.
"Withdrawing such unqualified parental guardianship is required by judicial guideline issued by the top court in 2013 in which teachers, parents and civil servants who sexually abuse children are identified for severe punishment," Ma said.
"What we are doing is strictly enforcing that legal document to better protect children."
Yue Lin, a researcher at the top court specializing in cases involving children, said work to protect children from abuse needs cooperation between judicial bodies, civil affairs departments and NGOs.
"After all, a court can only sentence those who injure children-deprive them of their guardianship and order them to keep away from children,-but the real problem is not rooted out," Yue said.
"It's understandable that these children are too young to report what they are suffering, but it's not understandable when people such as teachers and neighbors who know these kids are being damaged ignore it."
Both Yue and Ma called for grassroots efforts to be made, especially in local communities, to fight against the exploitation of children and report abuse in a timely manner.
Beijing No 2 Intermediate People's Court said it has worked with medical facilities, schools and communities to try to reduce sexual assaults.
It said it also provides psychological services for young victims. In addition, the court has sent judges to primary and middle schools to make children and parents more aware of the laws and the rights of minors.