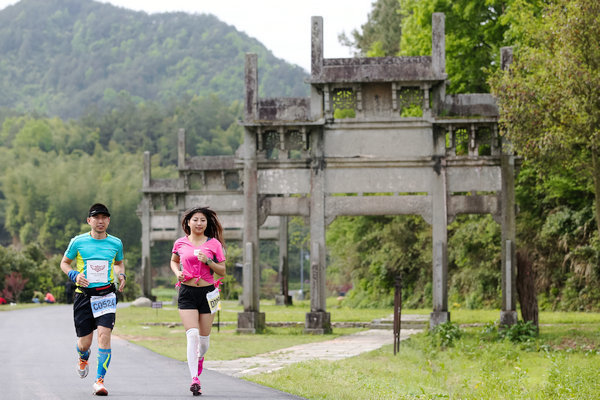 Runners pass Huizhou's classic paifang archways during the marathon. [Photo provided to China Daily]
With marathon fever sweeping across China and new races popping up nationwide, an impoverished county in a mountainous part of Anhui province is also lining up at the start line with an event it hopes will bring some much-needed money to local villages.
Jinzhai county, which is officially listed as being among the nation's most impoverished areas, announced on Monday its plan to hold its first half-marathon.
And while the goal of runners taking part in the event on Sept 25 will clearly be the finish line, organizers are targeting an influx of cash to help with the county's poverty relief efforts. They hope the event will attract more than 3,000 runners from throughout China who will participate in either a half-marathon, a 10-kilometer race or a 5-kilometer event.
A portion of runners' registration fees — which will amount to dozens of yuan from each participant — will be donated to people living in impoverished villages, according to the local authorities.
Those behind the race also hope participants will get more of an understanding of the region and its residents.
Officials from the county government said the event will help tourism, which they hope will play an important role in Jinzhai's poverty relief efforts.
Jinzhai, which was once an important revolutionary base for the Red Army, has a population of around 680,000 people, of which 83,400 are below the poverty line.
In addition to helping relieve poverty, the event will act as part of the commemorations marking the end of the Red Army's Long March 80 years ago.
Marathon running is becoming increasingly popular in China and local governments and sports companies have been paying close attention and organizing new events. According to the Chinese Athletic Association, there were 134 marathon races and other long-distance events last year. So far this year, there have already been more than 100.