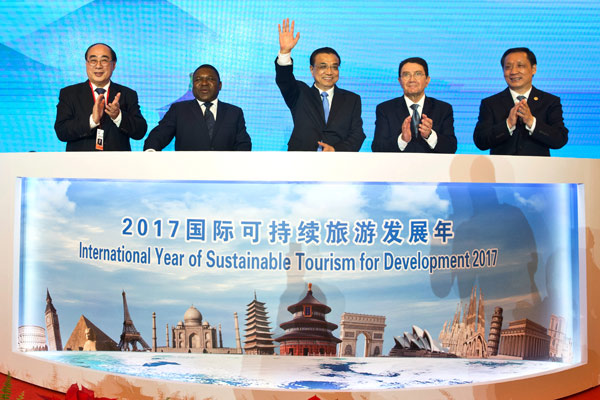 Premier Li Keqiang waves at the opening ceremony of the First World Conference on Tourism for Development at the Great Hall of the People in Beijing on May 19. "We will strengthen market regulation and oversight to offer a richer, more convenient and safer travel experience," he said.[Photo by Feng Yongbin/China Daily]
Editor's note: The following is a full-text speech by Premier Li Keqiang made at the Opening Ceremony of the First World Conference on Tourism for Development held in Beijing on May 19.
Your Excellency President Filipe Nyusi.
Your Excellency Secretary General Taleb Rifai.
Ladies and gentlemen.
Friends.
Today marks China's Tourism Day and the opening of the first World Conference on Tourism for Development. As we say in China, good things come in pairs. On behalf of the Chinese government, let me offer warm congratulations on the opening of the conference. I also express a sincere welcome to all guests coming from afar, and pay high tribute to those who have long been committed to the development of tourism in the world.
Travel and tourism makes part of the human pursuit for a better life; it opens a way to the new and the unknown world. Traveling has been a long-held tradition in Chinese culture. The Chinese have always believed that he who excels reads as many as 10,000 books and travels as far as 10,000 miles. In fact, many masterpieces of writing have been produced as a result of such travels. Xu Xiake, a famous Chinese scholar who lived back in the late 16th to 17th century, traveled far across the country, reaching places that had never been reached before. His book, Xu Xiake's Travel Notes, tells about his 30 years of travel experience over 400 years ago. The book is a geographic classic that gives a comprehensive account of the natural environment, and is also a huge travel guide to the natural landscape in China. Its influence, far and wide as it is, is still being felt today. The nineteenth of May, the date that Xu Xiake's travel diary began with, has now become China's Tourism Day. Yet in the old days, not many people traveled that much due to economic and social constraints. Those who lived in remote areas might even have never stepped out of their hometown. That changed with the introduction of the policy of reform and opening-up. As the economy grew faster and people's income got higher, more and more people could afford to travel. This is even more so when transportation in China is being made increasingly easier. After 2000, with increases in household consumption, travel is no longer a luxury for the few but rather a consumption of necessity for the average Chinese. Last year, Chinese tourists made more than 4 billion domestic visits, and expenses on travel accounted for 10 percent of total household spending. Over 120 million outbound visits were made by Chinese tourists and China received 130 million inbound tourists from abroad. A total of over 4 trillion yuan in revenue was generated. Forecasts show that by 2020, the number of per capita travel times by Chinese tourists and the amount of tourism revenue will both double on the current basis.
China is a huge country. It has a long history, a splendid culture and enchanting natural scenery. The Chinese population is multi-ethnic, each with its own uniqueness. All this could be translated into advantage and potential for tourism development. The Chinese government places high importance on tourism. In recent years, we have promulgated the Tourism Law, adopted a national program on travel and leisure and rolled out a host of policy measures for the reform and development of tourism. It is our plan to make tourism a strategic pillar for the economy and a modern service sector to meet people's growing travel needs.
・ Tourism is a new driver of growth in China. Despite a significant growth, tourism in China, in general, falls short of people's demand. There lacks premium and creative tourist programs and services. In the past five years, investment in tourism has grown by 40 percent annually to exceed one trillion yuan last year. Modern day tourism integrates the primary, secondary and tertiary industries. It is a new economy that increases the consumption and added value of agricultural products. It also drives the development of needed industrial goods. It is associated with more than 110 industries, and contributes to more than 80 percent of businesses like catering, accommodation, civil aviation and railway passenger transportation. Booming tourism drives up other businesses. In 2015, direct contribution and aggregate contribution of tourism to China's GDP was 4.9 percent and 10.8 percent respectively. That said, tourism is not contributing as much to the economy in China as it does in many other countries. We have drawn up plans to make tourism a major part of structural reform, supply-side structural reform in particular, to spur growth. We will implement tourism promotion and investment promotion plans, increase market access for private capital and deepen external cooperation to provide more impetus for tourism to grow.