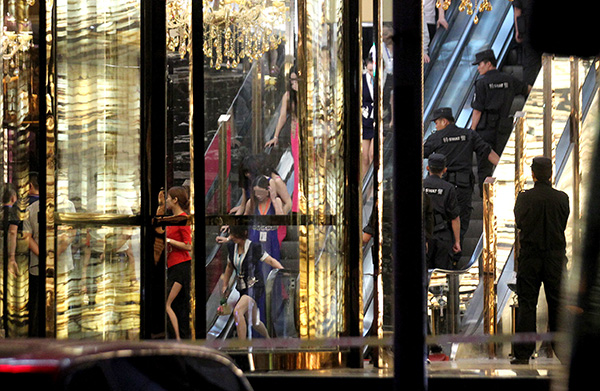 Police take away suspects at the Red Club Karaoke in Zhengzhou, Henan province, on Thursday. Provided to China Daily
A luxury night club in Zhengzhou, capital of Henan province, was raided on Thursday night for providing sex services.
The Red Club Karaoke, pitching itself as a "five-star resort club in Henan province", opened about two years ago and occupies an area of more than 10,000 square meters.
Pictures of the raid posted online on Friday by Dahe Daily, a local newspaper affiliated to Henan Daily Press Group, showed that police used six buses to transport the suspects caught at the scene.
Police could not be reached for comment and more details of the case were not available.
The incident attracted public attention as it is the second high-profile case involving prostitution in the province in recent years.
In March, two leaders of a gambling and prostitution ring were sentenced to life in prison and another 85 members given jail sentences after Royal No 1 Nightclub in Zhengzhou - involving 300 million yuan ($46 million) of illicit money - was busted.
More than 2,900 women had provided sex services at the club before it was raided and forced to close in November 2013.
A total of 152 police officers were punished for covering up the ring and more than eight million yuan in bribes were seized.
Three prosecutors were also found guilty for covering up the ring.
Zhou Tingxin, former deputy police chief in Zhengzhou, was the most senior police officer punished in the case. Police officers involved in the case were either awarded stock shares of the club or given money.
Wang Xiaohong, who was then the police chief in Henan province and was in charge of the Royal No 1 Nightclub case, was appointed vice-minister of public security on Friday. Wang was head of the Public Security Bureau in Henan from August 2013 to March 2015 and then was appointed police chief in Beijing and stayed at the position for a little more than one year.
Contact the writers at zhang_yi@chinadaily.com.cn